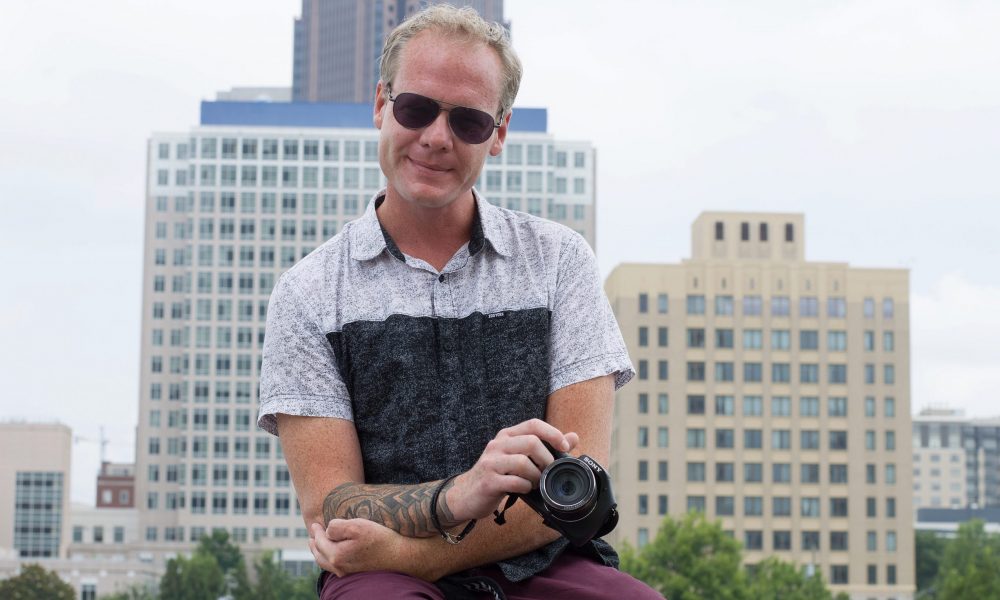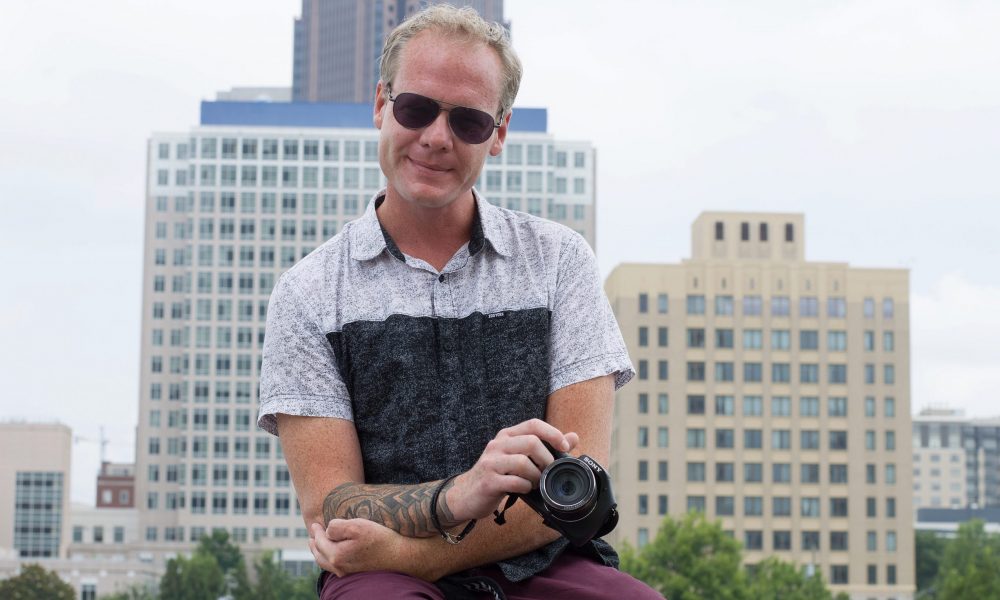 Today we'd like to introduce you to Kevin Quinn.
Kevin, please share your story with us. 
I discovered photography in the Summer of 2015. I was going through a very difficult time in my life (divorce) and my whole life was turned upside down. I was very depressed. I started walking every day through Downtown and Midtown Atlanta during my lunch breaks.
One day, I was sitting on a street corner with my hands on my head very upset, crying and for the first time in my life, I wanted to give up. Then something happened and for some reason I looked up. When I looked up I saw all these beautiful buildings surrounding me that I never noticed before. I took my camera phone out and took a photo.
That moment forever changed my life. I started taking photos of every building in Atlanta during my walks. I realized that no matter if it was a rainy day or sunny day, these buildings always stood tall and looked very beautiful and they taught me a lesson: no matter what happens in life-you always need to stand tall and keep looking up. I found my new love on that street corner that day and it was photography and all those buildings became my new friends and I went back to see them every day and say hi. I have photographed almost every building in Atlanta now and have given them all names. This period of discovering photography and reinventing myself led me to my second love which is painting. Sometimes I don't understand why things happen the way they do. Instead of looking for answers, I have learned to take a photo or paint about it and if I can inspire someone along the way then that is everything to me. If you ever get down, keep looking up, because that's where the Dreams are. It's never too late to reinvent or to go capture your dreams.
Can you give our readers some background on your art?
Kevin is an internationally published self-taught Contemporary Artist based in Atlanta, GA that specializes in Abstract Architecture Photography and Abstract Painting. Kevin's photography focuses on urban architecture as abstract forms and finds human qualities that they possess. Kevin's titles are just as important to him as the piece itself. He never publishes a piece or shows it to anyone until the title has been written. Most of his pieces are titled around love because he believes there is nothing more important. Kevin believes he is writing a Love Story without words but with pictures and his characters are buildings. Kevin is incorporating Romanticism, Pop Art, Street and Model Photography and fusing it with Architecture.
Kevin is attracted to these buildings for the human qualities they possess. The intersecting lines leaning into each other merge the two structures into one singular pulse. Steel, glass and concrete become skin, breath and a heartbeat. It's not entirely unlike the human desire to become unified with someone. I have always been fascinated by the Human Condition and strive to illuminate that with all his architectural photography. Kevin never takes a photo of an entire building. He focuses on parts rather than the whole. He has learned in life that beautiful parts or moments will eventually create a beautiful life as a whole. Kevin is doing something different and unique. He has over 375 architecture pieces in his photography portfolio all of the City of Atlanta.
Kevin has been published four years in a row in several world-wide magazines, sold his artwork nationally and has his photography in Atlanta, Boston, Trenton, Chicago, New York City, Hartford, and St. Louis.
Kevin has been published in Amateur Photographer Magazine based out of London for his photo "Lovers." His photo "Fields of Gold" has been published in Photography Week Magazine. Kevin has also been published in Edge of Humanity Magazine and had 10 of his pieces featured. Recently, Kevin's art has been featured in Yes, We Are Magazine, Envira Gallery, Photos Worth Seeing, Abstract Daily, The Photographer's Society, and will be featured as Artist of The Week with CreArtics-an online art gallery/magazine in Atlanta. Kevin has also been invited to exhibit his paintings at The Brick Lane Gallery in London.
Kevin has two very distinct styles with his paintings. One style is minimalistic, simple and "Zen like" which uses the negative space of the canvas to enhance the painting and has elements and titles surrounding love, romance, passion, desire, beauty, energy and magic. Kevin believes the negative space is just as important as what is being represented. The other style embraces the opposite: intensity, rawness, pain, loss and misfortune. Kevin has always been fascinated by the strength of the human condition and is representing and communicating this through his paintings in abstract forms.
Kevin is constantly doing his photography and painting. When my brain gets fried from one, I switch to the other. It helps me reset and keep things fresh. Sometimes I take a break from both and have realized that even though I am not physically doing it, I'm still creating because I'm thinking about it. Creating and executing aren't necessarily simultaneous.
Kevin is influenced by Andy Warhol, Edouard Boubat, Jackson Pollock, Pablo Picasso, Vincent Van Gogh, Jean-Michel Basquiat, Mark Rothko, and Alexander Rodchenko. Kevin has been told by other artists and followers that they see Picasso, M.C. Escher, Piet Mondrian, Wassily Kandinsky, Victor Vaserely and Edgar Degas in his work.
Édouard Boubat, France's most famous romantic photographer is Kevin's biggest influence. Even though Boubat never did architecture photography he has influenced Kevin's art profoundly. Boubat chose to capture through his art only love and beautiful moments. Kevin does the same and that's why the majority of his work is titled within the theme of love and romance. Kevin believes the world needs more love and beautiful moments.
Past, present and future Love inspires Kevin the most. He is also inspired by his parents, brother, his close friends and music. I talk about Love a lot because it moves me like nothing else. I'm a romantic photographer and artist and through my experiences and art work, I try to inspire and give hope the best I can. There is a memory in every piece that I do. "Keep Looking Up"
Kevin is from Philadelphia, PA and has lived in Atlanta since 1996. He is an Oglethorpe University Graduate (B.A.) Kevin enjoys all the arts, writing, reading, cooking, exploring the City of Atlanta, and plays several instruments. He attends the Atlanta Symphony, art galleries every chance he gets and enjoys lovely walks through the city with his girlfriend "Grace" (his Camera).
How do you think about success, as an artist, and what do quality do you feel is most helpful?
1) Be you, be true to yourself, say what you need to say and never explain or apologize for it. The type of camera you have doesn't mean anything. It's the photographer and not the camera. The type of art supplies you have doesn't matter because it's the artist and not the paintbrush.
2) Hit social media hard especially Instagram, Twitter and Tumblr.
3) We live in a world of "Likes" and "Followers" and don't let this affect you or your art. If you don't get many that doesn't mean people are not looking. Followers and building a brand takes time.
4) Have a website.
5) Keep producing no matter what and let all the critics out there decide if it's good or not. But you know what? If you like it…it's good enough and that's what matters most.
6) Copyright everything
7) Confidence is everything. When I first started photography, someone said to me: "Do you know how many photographers there are in the world?" I replied: Well…. there is one more.
8) Never look back, only look up and show the entire world who you are and what you need to say.
What's the best way for someone to check out your work and provide support?
I am with TurningArt an art firm that recommends my work to commercial and private clients nationally.
https://www.turningart.com/artists/artist-kevin-quinn
TurningArt
Boston, Massachusetts
Contact Info:
Phone: 4042855594
Email: kevinfq0821@gmail.com
Image Credit:
Portrait of me photo: Photo credit: Asa Williams
Getting in touch: VoyageATL is built on recommendations from the community; it's how we uncover hidden gems, so if you know someone who deserves recognition please let us know here.