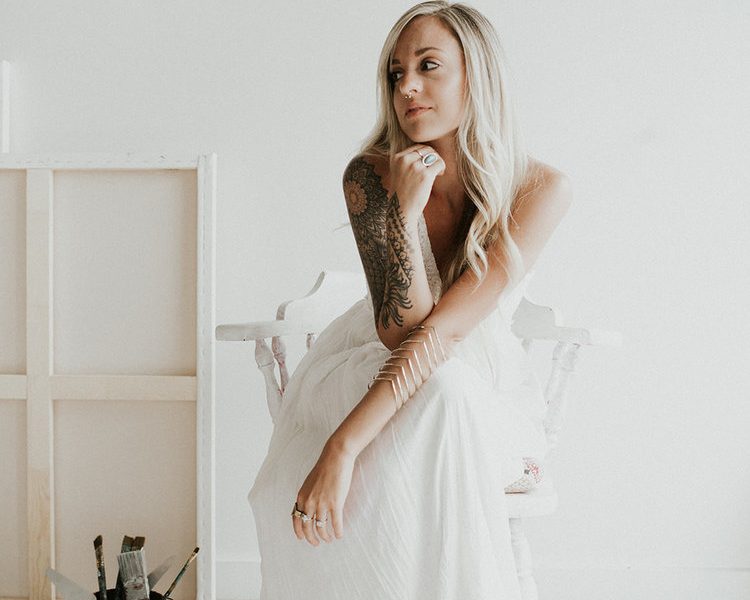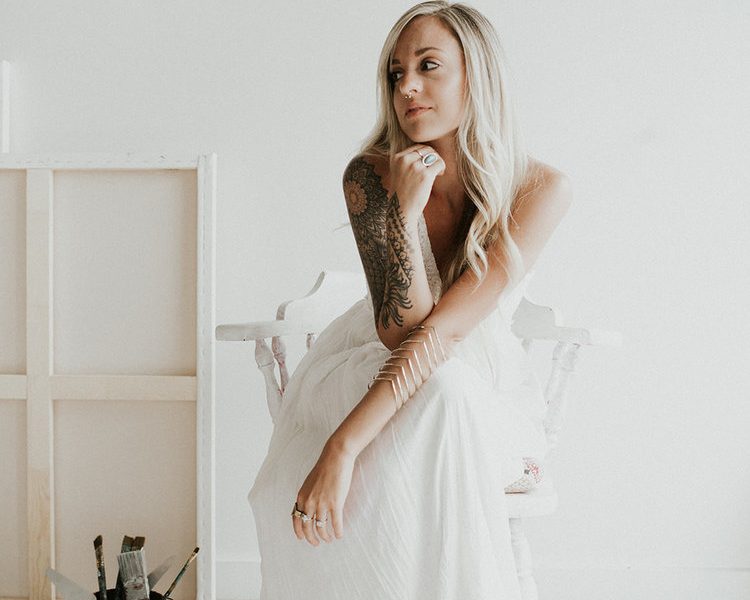 Today we'd like to introduce you to Sam Rueter.
Sam, please kick things off for us by telling us about yourself and your journey so far.
I guess my journey as an artist began as a little girl. Art was introduced to me from the time I could walk and talk, so it was something that remained constant through my adolescence. My dad received his BFA and had worked in New York as an artist before I was born. His massive drafting table was always my favorite place to be; fumbling through all of the colored pencils, pastels and watercolors. Through grade school I guess I was always an 'art room' kid. By senior year more than half of my day was dedicated to painting, drawing, photography and ceramic classes. I couldn't really pinpoint a favorite medium; I just truly loved the voice creating gave me. That I could get lost for hours on a project and not even have an end goal in mind.
When it came time to 'choose a life-path' for college, all I knew was that I needed it to be art-related. When you tell a room full of adults that you really want to go to school to become an Artist, people tend to talk you out of it. I created a route with a backup plan– a dual major in Art Education and Studio Arts. Choosing to be a double major was no joke and incredibly grueling at times; but I was able to take so many incredible fine art courses of all levels– from ceramics to sculpture and jewelry to fiber. Every elective slot in my schedule was filled with more and more studio time. It only continued to grow my love for creating. Making things. Drowning myself in the creative process.
After graduating, I landed a job as an early education teacher, and had the privilege of leading a classroom of 25 students over the course of the next 4 years. It was the hardest I've ever worked. And the most love I've ever given. I am so truly grateful for those years and all of those little ones. Because had I not been standing in front of them, day in and day out, saying "you can be whatever you want to be when you grow up!", I may have never convinced myself.
Can you give our readers some background on your art?
Mostly, I define myself as a painter. I hope someday soon I'll be able to go back and experiment with sculpture and 3D subjects, but for now; its myself, my paints and my canvas. It's been a journey working to discover my own authentic voice and what I need out of the process. When I first started, I was hesitant to paint what was significant to me because I was fearful of rejection, lack of sales– all of those things. But to me, art is a very sacred process. If you're not tending to your own needs and putting your own truth into the world; you're not doing your job as an artist. I guess I paint to tell a story. To allow others to see a piece of themselves in my work; to make a connection. Hell, to even feel something. To maybe prove we are all connected much more than we believe.
My adoration for painting the female form stems from my own story. My growth and experience as a woman. I have always placed most of my creative energy into portraying the female form in new and subjective ways. Challenging and pushing its implied structure to its limits. The figures depicted in my work are faceless in terms of a specific identity. This is because they are not representative of one woman, but of many. She often represents all women; a hope that one can find a story of their own within the work. Something that feels relatable, authentic, and true. These works are created in fragments; representative of what it means to be a woman, sometimes whole; others growing and morphing into something much greater than ourselves.
How do you think about success, as an artist, and what do quality do you feel is most helpful?
When we're young, I think there is often one definition of success drilled into our heads; the idea that we follow this specific life plan. That once we make a lot of money in a career, get married, have a big house filled with children and things– that we are successful. When I decided to leave that stable career, I began to redefine this concept and reevaluate what was truly important in my life. Because to me, it's simple– if you're not happy, you're not successful.
Success as an artist, to me, is a few things.
Being able to provide for myself through the creative process is something I'm truly grateful for. The next though, is that connection. Having strangers view my work and send me an email describing why they feel so sentimental to a specific piece or someone taking the time to view my work at a show because they saw themselves in that painting. Someone pointing out a color on the street to say it reminds them of my work. Creates an emotion. I just think it's such a blessing to feel this need to express myself– pretty mind-blowing. To create larger bodies of work and connect with more people, to grow as a person and the artist, that is my version of success.
For all artists, I think maybe the most important aspect is to remain true to who you are. The world has an audience for everything. Art is more than just sitting pretty in people's homes– and I would love to challenge us all to create something with a greater value in mind. What can you give? What can you challenge? How can you be of service? It's about adapting and growing, but also being who you are and not swaying from that. (we've all got some work to do!)
What's the best way for someone to check out your work and provide support?
Currently, I have work on view at Trager Contemporary Gallery and The Grand Bohemian Gallery both in Charleston, SC. Destination Haus in NY, and soon to be Sozo Gallery in NC. I am always showcasing new collections through my website and social media, and love to send work to new collectors from across the globe. Truthfully, supporting independent artists by word of mouth, attending shows, etc. can really mean so much!
www.srueterart.com
@sruetercreates
Contact Info:
Address: 1674 Folly Road
Website: srueterart.com
Phone: 8456496581
Email: srueterart@gmail.com
Instagram: @sruetercreates

Image Credit:
Photographs by sam bufalo and mary beth creates.
Getting in touch: VoyageATL is built on recommendations from the community; it's how we uncover hidden gems, so if you know someone who deserves recognition please let us know here.