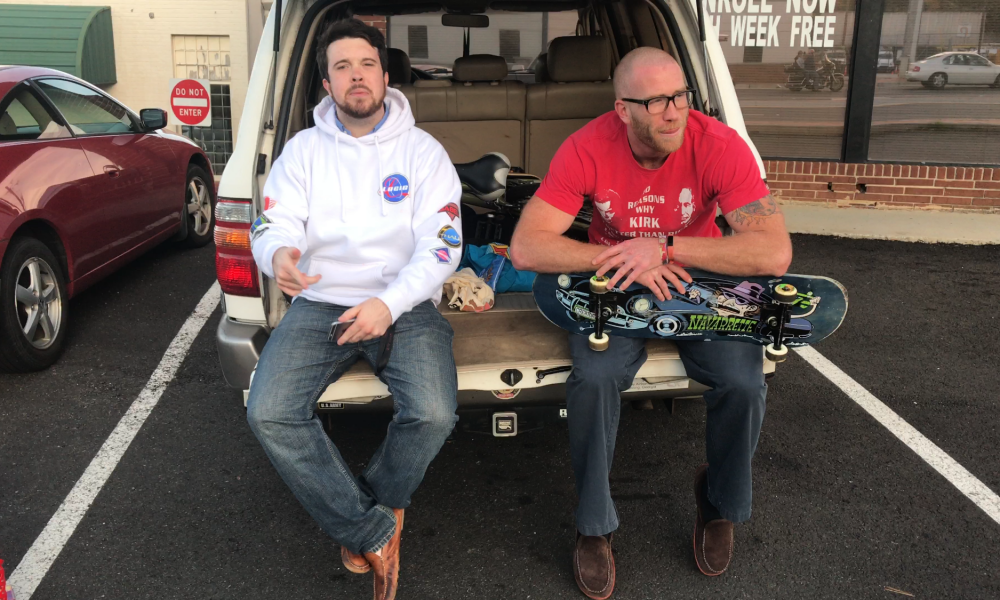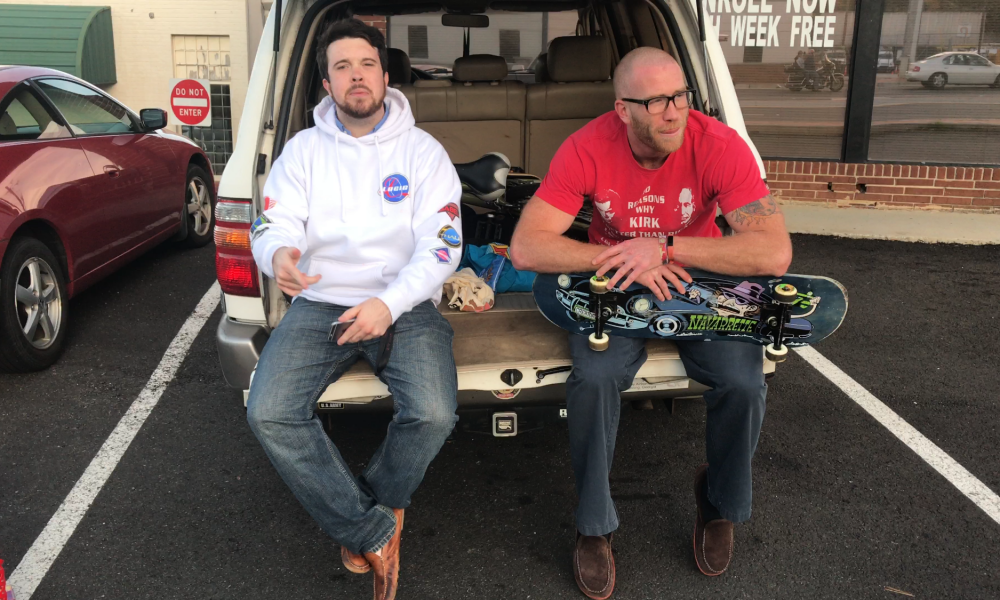 Today we'd like to introduce you to Self Will Run Riot.
Self Will Run Riot is a hip-hop duo from Marietta, GA made up of Patrick Mahon (P Suade) and Adam Abramowitz (AZ). Both Patrick and Adam have been in recovery from substance abuse for five years.
Patrick started writing when he got sober in 2013. The process allowed him to therapeutically capture his thoughts and emotions so he could express himself in the truest way possible.
He released a mixtape in 2015 called "Relapse Prevention". The title was based on a packet given to him in rehab where the exercise was to write a plan of action for staying sober long term. This mixtape was his personal relapse prevention packet, and he hoped that whoever listened could be inspired from the lyrics to stay sober one more day.
Adam encountered Patrick outside of a recovery meeting and was given the "Relapse Prevention" mixtape. He listened to it and was inspired to help Patrick any way he could.
Adam started recording Patrick's songs in his basement and began planning the next steps. He helped Patrick attend shows, shoot videos, and challenged him to be more vulnerable with his writing in hopes of inspiring others during the process.
On November 14th, 2017 Adam and Patrick decided to write a song together. They continued writing songs for the next couple of weeks. (2 of which are on their upcoming album.)
In December of 2017, Patrick was asked to perform a 20 minute set at the Masquerade in Atlanta, GA. Patrick decided that the both of them would perform, calling themselves P Suade & AZ.
The show was scheduled for February 28th, 2018 and in preparation, they tirelessly practiced and rehearsed. They told everyone they knew about the show. And when they stepped on stage the evening of February 28th, they were ready.
After the show, it became apparent that they had something special, energy that both of them fed off of and enhanced. That night, they decided to pursue their artistry as a duo and began writing songs regularly over the next four months. After they had written a handful of songs, they started scheduling live performances and consistently attended 3-5 shows a week.
As of September 15th, 2018, P Suade and AZ have written and recorded their debut album on AZ's computer.
The two stewed over what to call themselves for months until they came up with "Self Will Run Riot".
Self Will Run Riot is a slogan used in the recovery community to describe how someone's actions can become out of control if they rely solely on their own self will. For P Suade and AZ, the term Self Will Run Riot has a dual meaning. The first is that no one is going to do the work for them. They need to discipline themselves and take action to realize their potential. The second meaning is that their own "self will" cannot accomplish what they have set out to do. They have needed and will continue to need, the love and support of other people.
"Self Will Run Riot" is meant to be a beacon for those who are unsure of how to move towards what they truly love, because the truth is, we are all afraid sometimes. Patrick and Adam move towards fear in hopes of inspiring others to do the same. To show that freedom is right on the other side of fear.
Can you give our readers some background on your art?
We write music to discover what we've been through and what want to say. We believe each song brings out a particular emotion and, as artists, it is our job to make sense of those emotions and convey them based on our individual experiences.
The process is therapeutic for us. We want to explore how we feel, especially when the feeling is one we are afraid to express because it helps us to grow as individuals. We hope that what we try to capture in our songs can help those who have struggled with similar issues.
We believe we have a duty to share the message as other artists have shared it with us. That we should express ourselves, even if others don't understand or accept it, because it could make life a little more bearable for someone who's struggling.
The songs we have created helped us work through our issues. Each song is a piece of who we are, a window into our own self-discovery as we face internal struggles and make sense of the human experience.
Any advice for aspiring or new artists?
Our biggest piece of advice to other artists is to find what scares you and chase it down.
External circumstances like money, fame, and glamour will not bring true happiness and contentment. Discovering "who we are", how we feel, and what we believe in is what continues to drive us.
Also, listen to these two albums:
M83- "Hurry Up We're Dreaming"
The Whitest Boy Alive- "Dreams"
What's the best way for someone to check out your work and provide support?
Our work can be accessed on our website: http://www.selfwillrun.com/. Our website has a live performance video, a music video created by A-Z, and the newest song we have recorded. The website also has links to our Facebook page, youtube page (which has all of our music videos), and SoundCloud page (which has most of our released songs).
Each of those links will also be provided below:
Website: http://www.selfwillrun.com/
Youtube: https://www.youtube.com/playlist?list=PL4F4Asfe1o73CZYG1Ts29TvNBlQvepT0_
Soundcloud: http://www.soundcloud.com/selfwillrun
We also have individual Instagram pages:
P Suade (Patrick): @psuademusic
AZ (Adam): @insidethemindseye
We have started a scholarship foundation w/ Valor House Sober Living.
Half of our revenue goes towards providing a sober living for someone who can't afford treatment.
You can support our mission by listening to our music on streaming websites (Spotify, Apple Music, Pandora, etc.), attending one of our performances, and purchasing merchandise. All the profit we make will help someone get into treatment, and help us cover expenses for touring and making more music.
Contact Info:
Image Credit:
Adam Abramowitz and Patrick Mahon
Getting in touch: VoyageATL is built on recommendations from the community; it's how we uncover hidden gems, so if you know someone who deserves recognition please let us know here.