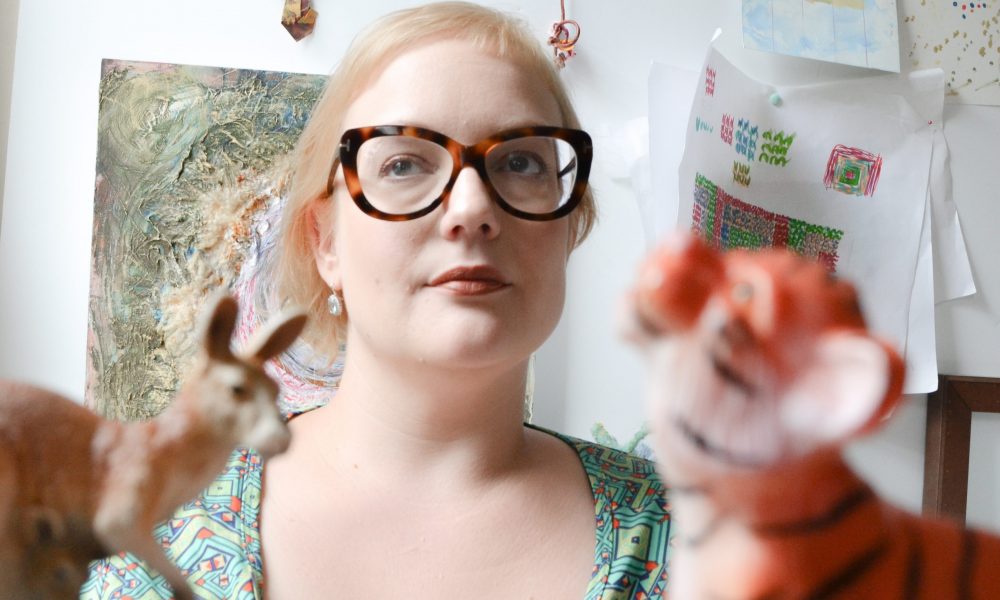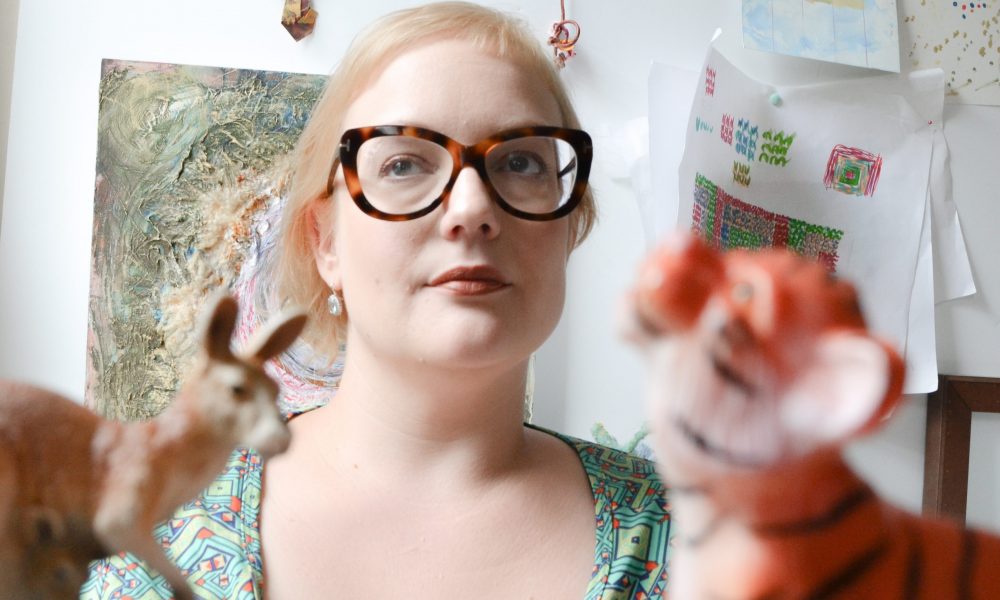 Today we'd like to introduce you to Elizabeth Katherine Porcel.
Elizabeth Katherine, we'd love to hear your story and how you got to where you are today both personally and as an artist.
I grew up on Long Island about 60 miles from New York City. My dad worked for the Long Island Rail Road as a mechanic and my mom worked as a nurse until she was forced into retirement by a heart attack from lupus, I was 11 years old.
My mom took my sister and me into the city to go to the Metropolitan Museum of Art, though we never made it out of the Jesus section. My mother is very religious, my favorite part of Sunday school was making the crafts. By the time I got to High School, I was very encouraged by my art teachers to paint. I worked as a studio assistant to an aging local sculptor, took pre-college figure drawing at Fashion Institute of Technology and spent most of my lunch periods in the back of whatever class was going on painting. I also excelled in the life sciences, with a nurse for a mom I was exposed to all of her medical texts at a young age.
I was accepted to the Pratt Institute and loved my foundation year. I felt like I belonged for the first time. My mom encouraged me to choose a major that I could have a job with when I graduated. I studied Industrial Design for a semester and heard, 'You have more of a fine art sensibility", more often than I can recall. My mom was diagnosed with uterine cancer and she worried that there wasn't enough money for me to finish a degree in art. She encouraged me to transfer to community college for a trade degree. I chose Mortuary Science. I kept sketchbooks during this time, learned how to knit and did some work for a fiber artist. Convinced that being an artist was only for trust fund kids I diligently completed my studies, residency and licensing to become a Funeral Director.
One day I quit, gave my landlady notice and drove to Atlanta. There was only my, now husband, here for me. I was 25 and saw a reset button. After I enrolled at SCAD Atlanta to finish my BFA. I had two children while going back to school and graduated summa cum laude.
Since graduating I've been nonstop art. Making and exhibiting, being an ambassador for MOCAGA (a great museum dedicated to showcasing Georgia artists), doing studio assistant work for Leisa Rich (an excellent Fiber artist and teacher), and sales for Poem 88 (A wonderful gallery).
We'd love to hear more about your art. What do you do you do and why and what do you hope others will take away from your work?
My work is sometimes just painting and often times some sort of painting, drawing, sculptural, stitched entity. It always feels like painting to me. Three years ago, labyrinths started creeping into my paintings. It all started with looking for matriarchal symbolism. I had been making paintings of scenes of my own newly acquired domestic roles, of the existential crisis of motherly duties. I drew a parallel between ancient Minoan Crete, their association with the history of labyrinths and the devoutly Christian matriarchy from which I came. There is something enticing, laborious and possibly a bit dangerous about going 'within oneself'.
The foliage in these paintings is drawn from the plants I see and cultivate in my home. The animals are inspired by the fauna found in the Hunt of the Unicorn. Animals depicted often by description alone have an alien quality to them. They become a familiar unknown.
When I'm not making paintings about the rhythms and patterns of seeking/growth I make work inspired by new scientific understandings. I was fortunate enough to be a participating artist in the most recent Atlanta Science Festival. I worked with a research student from Georgia Tech and created works in response to the communication of Pseudomonas bacteria.
Whether I'm making work inspired by science or my own lack of faith in a faithful world I hope that the viewer enjoys the work. Working in funeral service reminded me of how fleeting life is. Art has always been a sanctuary to me. The ability to get lost in a book, song or artwork is the best part of being human. I suppose my flight instinct is stronger than my fight.
What do you know now that you wished you had learned earlier?
Being an artist is not mutually exclusive to being anything else. You can be an artist and whatever else you need to be as well.
I also love this from Camus:
" Every artist is undoubtedly pursuing his truth. If he is a great artist, each work brings him nearer to it, or, at least, swings still closer toward this center, this buried sun where everything must one day burn. If he is mediocre, each work takes him further from it, the center is then everywhere, the light disintegrates. But the only people who can help the artist in his obstinate quest are those who love him, and those who, themselves lovers or creators, find in their own passion the measure of all passion and hence know how to criticize. "
"Lyrical and Critical Essays." Lyrical and Critical Essays, by Albert Camus, Edited by Philip Thody, Vintage Books, 1979, p. 161. We're all in this together. Let's make an effort to act like it.
Do you have any events or exhibitions coming up? Where would one go to see more of your work? How can people support you and your artwork?
Unfortunately, I don't have an imminent exhibition of my work. My contribution to the 2018 Sketch Book Library can be found at the Brooklyn Art Library, call number: 350.18-10.
You can support me directly by purchasing my work on Saatchi.com or purchasing work from Poem 88. While you're on a supporting spree support the MOCAGA as well. The institution is a museum home for all of the wonderful art of Georgia artists. Really, support the arts in Atlanta. Become a collector. Fill your home with things made with thought and love by others. We all need art.
Contact Info:
Image Credit:
Images taken by artist
Getting in touch: VoyageATL is built on recommendations from the community; it's how we uncover hidden gems, so if you know someone who deserves recognition please let us know here.