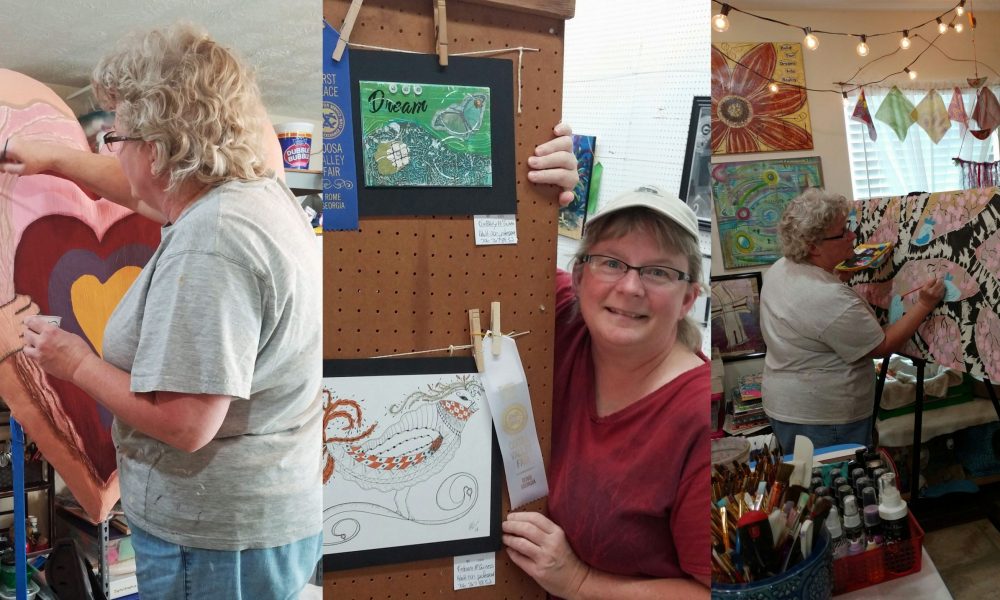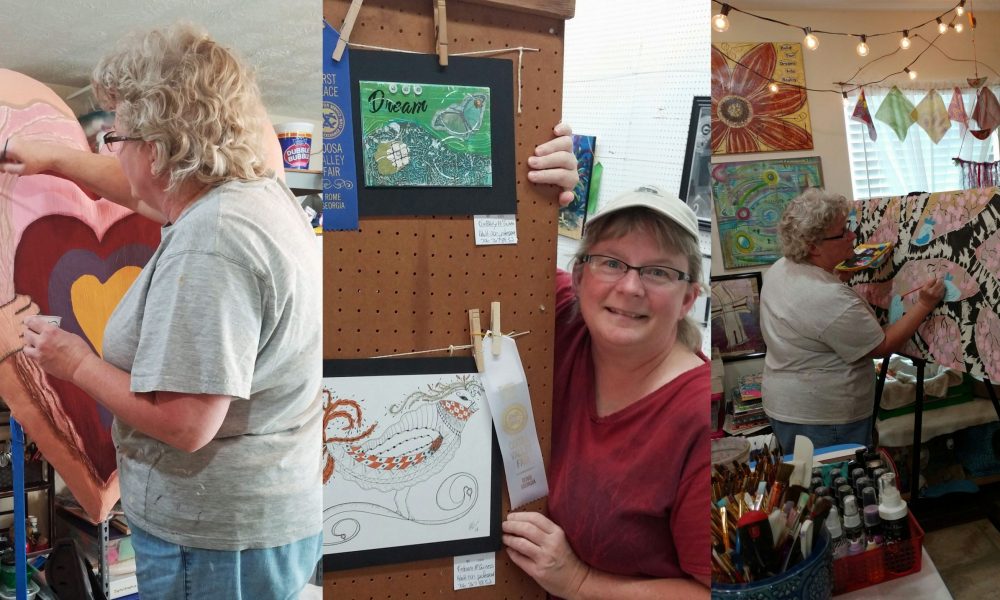 Today we'd like to introduce you to Kimberly McGuiness.
Kimberly, we'd love to hear your story and how you got to where you are today both personally and as an artist.
I'm a self-taught artist who works in a variety of mixed media, digital art, and some illustration. I have always been a creative spirit my whole life, but, my true love has been for my art since I was in elementary school. My artwork received a Certificate of Achievement from the Florida Winter Park Arts Festival in 1976-1977, I was so happy. I felt so special getting that award. I went through the grades exploring art and developing my creativity through my high school graduation.
My life took a different turn when I was blessed with my daughter Julia in 1988. She is a ray of sunshine surrounded by an infectious loving spirit who is living with deaf autism. She is my sunshine on my stormiest and my storm on my sunniest. After her birth, my art was on hold for many years until 2008 when I started back with my journaling which then leads me to where I am today with my work. I practice, create and learn something new every day. I have a wonderful support system both at home and online with my fellow creative friends. I 'm finally living my dream of being a full-time working artist, something I never thought would ever happen after Julia's birth and immersing myself into her world and business of disability supporting her in her abilities and goals to be the best she can be. It's not easy and every day is different. We celebrate each little step forward and learn from the steps backward, but I'm grateful for each one because things could be so much different, I'm truly blessed.
Though the years of advocating for Julia, being her voice where she has none has allowed me to bring change for her and others like her. From services to sign language interpreters, to state legislation we have made a difference. In August 2010 I was honored to be among the first 13 everyday citizens to receive the Presidential Citizens Medal from President Obama. It's the 2nd highest honor given to a citizen of the USA and is usually held for those who are already famous. The experience in Washington with my peers is something I will never forget, and I'm truly humbled being a part of such a history-making event. So I say go for whatever it may be you want, you never know how it will affect you, others or where it will lead!
We'd love to hear more about your art. What do you do? Why? And what do you hope others will take away from your work?
My creations are contemplative moments in my mind, where vision and energy undergo a metamorphosis. Patterns and textures from nature, I'm profoundly intrigued and amazed at the beauty Mother Nature has to offer, it's just amazing. The beautiful texture and color all make for a fabulous kick starter for my imagination along with cultures around the world, inspiration from others and my own imagination are my greatest influences.
My work is first my therapy. Having an adult daughter in the home living with deaf autism is a great challenge in of itself. I need to have the creative outlet to release stress keep me grounded, and for the 'escape' it gives me. I'm always pushing myself to try unique and unusually different things, one to see if I like the process and if so how can I fold it into my style of work. Pens, ink, paper, acrylic, joint compound, molding paste, wood, canvas panels, vintage music (my utmost fav), watercolor, recycled materials, and the computer are among some of my favorite tools in giving my creations life. I've even arted up some switch plates and lamp shades in my own home using acrylic, vintage music and ink, I love them!
My hope and wish are that people take away from my work something which resonates with them and perhaps giving the possibility of healing in some way. Roughly giving them a moment in time to make them stop, be still and listen to the piece and the story it may have to tell. A moment which helps them reflect on their own life's journey, the emotions, the hills, or mountains, they may have climbed, the bumps, twists and turns on their own path and to finally have gratitude for how far they have come.
What do you think it takes to be successful as an artist?
For me, success is showing up every day to do the work. Whether it is in in a journal or a piece of copy paper a napkin or the newspaper. Create, create, create and have a great support system. You can't be afraid to create your own opportunities. What do I mean by that? Reach out to those who may be able to help you get exposure, editors of magazines, local businesses, library, offices, and local artists and those online. They may have some tips to help, and you never know who knows someone kind of thing to get you to the next level of your work and art career.
Quality characteristics for me is to keep moving, be a person of value and surround yourself with those who can help move you forward in a positive way. Dump the negative energy no matter where it comes from and do your best to kick the critic to the curb! Easier said than done I know, I struggle too but every day give it your best shot and celebrate every accomplishment no matter the size.
Do you have any events or exhibitions coming up? Where would one go to see more of your work? How can people support you and your artwork?
My website https://www.kimberlymcguiness.com/ is the best place to start. There you can see my work, find out about my shows and sign up for my monthly newsletter.
Following along and supporting me as a creative and artist means the world to me. When people like and comment on my posts of pieces I'm working on or completed, and I read them it brings me such great joy. When I can meet someone from online in person at a show, and we chat about the process of a piece or the story they get to 'see' my passion live and unfiltered. They get to 'know' me a bit giving them a little sense of real connection with me when they see something I post online. I also have an online shop https://kimberlymcguinessart.ecwid.com/ where you can find unique one-of-a-kind pieces. Every creation has a bit of my heart and soul in it, and when it moves on to its new home, I'm so deeply touched knowing my work will bring joy to others.
Contact Info:
Image Credit:
Julia and Kimberly McGuiness
Getting in touch: VoyageATL is built on recommendations from the community; it's how we uncover hidden gems, so if you know someone who deserves recognition please let us know here.