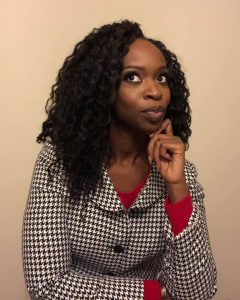 Today we'd like to introduce you to Dr. Isha Metzger.
Dr. Metzger, let's start with your story. We'd love to hear how you got started and how the journey has been so far.
My parents fell in love in Freetown, Sierra Leone and moved to the United States in 1981 to start their life as newlyweds. My mom somehow managed to get her degree in computer science while supporting my dad through law school, birthing a set of twins, and then having a rambunctious follow-up baby (me) a mere 18 months later. Although I grew up in a household with up to 14 family members who were refugees from the civil war back home, somehow my mom convinced me that our little haven of love in College Park was a castle, that our Monte Carlo was a limo, and that the fence we weren't allowed to cross at the end of our cul-de-sac was a modern-day-moat surrounding our private villa. My mother is a true queen who raised me to be strong, free, and proud of my heritage, and the constant message passed down from her and her mother (a former schoolteacher in Freetown) was to achieve academic excellence as a means to personal independence. Although free to explore my many hobbies and interests, my mom gave me only three choices for career: doctor, lawyer, or engineer. I remember one day in my early education after I started getting number grades that I received my first 95%. My mom infamously stormed up to the school and demanded to know of my teacher: "WHAT HAPPENED TO THE OTHER 5%?!" I was being bussed from College Park to Sandy Springs for school, and it was from then on that my mother impressed upon me the familiar lesson that I'd have to work twice as hard in school to accomplish the same reputation and accolades as my White peers. And so began my history in academia. I became engrossed in my studies, and due to my early experiences, I developed a particular interest in understanding the impact of traumatic experiences, and the ways that Black families come together to protect and encourage healthy development in Black youth.
After graduating with my bachelor's degree from Georgia State University with a growing vocabulary and understanding of psychology, I went on to achieve my Ph.D. in Clinical Psychology from the University of South Carolina, and I then completed my predoctoral internship at the Medical University of South Carolina. I received postdoctoral training at the National Crime Victims Research & Treatment Center in Charleston SC, and I completed a postdoctoral fellowship at Yale University towards better understanding trauma that is interpersonal (physical abuse) and racial (police brutality), experienced directly (microaggressions) or vicariously (on social media), and related to behavioral (alcohol misuse) and health (HIV) outcomes for Black youth. I moved back to Georgia in 2017, got licensed in Clinical Psychology, and began working as an Assistant Professor at the University of Georgia.
Overall, has it been relatively smooth? If not, what were some of the struggles along the way?
Defiant in my own right, getting my Ph.D. was not the same as my MD, and my biggest challenge is that I still #toThisDAY have family members who wonder why I didn't become a "real doctor." In all seriousness, although no road is clear from obstacles, I have been able to overcome so many due to the women who have gone before me to clear the path, and thanks to those women who continue to reach back to guide my footsteps along my journey. In undergrad, I met my mentor who strengthened my foundation and calmed my nerves by telling me that perfection is not necessary to make an impact when I was struggling to overcome imposter syndrome and stood preparing for my first on-campus research presentation with knocking knees and a quivering voice. Soon after, I joined an academic enrichment program and went to my first out-of-state conference. The wife of the program's director changed my life as she read me for FILTH after I took (aka #accidentallystole #odetojoannethescammer) the world's fluffiest pillow from Universal Studios Resort & Hotel. As I stood there with my arms crossed (remember, defiant, SMH), she looked me in my eyes and told me that I was representing an entire legacy of Black women scholars who went before me and that I had a reputation of grace, intelligence, justice, and truth to uphold. As her lecture continued and I fought back tears, I felt like I failed my entire lineage of academic ancestors. She later told me that she pulled me to the side because she saw untapped potential in me and from then on, these women challenged me, supported me, protected me, and allowed me to grow into a confident and competent budding scholar determined to reduce health disparities and the impact of trauma on Black youth.
I later struggled when I left the comfort of downtown Atlanta and moved to Columbia, SC for grad school. My mentor at that time taught me to jump academic hurdles and she didn't bat an eye when I showed up in her office with eyes still red from crying, newly single with a shaved head, halfway through my doctoral program. Instead, she taught me to work through my evolving identity and insisted that, like with my research, I be sure to not frame my identity around struggle or momentary defeat. She knew then that Black women were in the minority in the program, and she made sure that I was surrounded by equally competent and strong, intelligent and driven Black women scholars. Together we all overcame countless obstacles including processing microaggressions, realizing that we were graded unfairly and held to different standards than our classmates, processing racist police encounters on campus, and changing mentors (and universities). When the younger generation of students came along, we welcomed them as our sisters, and we made certain to continue protecting each other and doing our work. Today, the challenges we faced as grad students are long behind us, and what remains are the personal and professional relationships we have solidified and added to our family along the way.
I went on to internship and postdoc, and now my faculty position, and I could name countless Black women who have made an otherwise unfriendly and unfamiliar environment one that surrounds me with love and support. I've also made allies along the way, some amazing women in my life who happen to be White and choose to use their resources and voices to do the work. While we learn from and share our testimonies to prevent others from stumbling on the obstacles we've faced, I carry with me the many friendships and lessons I've gained along the way. Together we continue to jump hurdles, overcome obstacles, lift each other up, climb mountains, and break glass ceilings!
Now that I'm a faculty mentor myself in charge of supervising and advising graduate and undergraduate students, my biggest challenge has been learning to wrap my arms around so many of them at once! My lab is growing and I'm having to protect them while nurturing their research skills and academic identities. My graduate students have shown so much resilience and fortitude their first year in our doctoral program, and I realized our little lab family was just that when they started calling me 'mom'. As they face challenges of feeling invisible in a program not designed for them, I've encouraged them to grab hold of their identities and tried to surround them with people and spaces that celebrate their unique perspectives and talents. I've been amazed by their grace in navigating higher academia, and I'm so thankful that somehow they've kept me organized and on my toes while helping to manage our undergrads and our many research projects. My undergraduate students take up much more of my time than I've found my White colleagues spend mentoring and advising their students, but they breathe life into me every day, and I am honored that they chose me to help them grow into their fullest selves.
Basically, what's a struggle?! Around here, we don't just survive, we learn how to thrive! My mom first sparked my academic curiosity by showing me how Black families take otherwise risky environments (in adulthood, I realized that the candy lady was a block away from the 'trap house' and that's why we couldn't cross the fence unsupervised) and make them ones we flourish in. I've been blessed to have mentors, colleagues, and friends who have become a part of my family, and I am excited to continue doing this work that is so important to me.
Please tell us more about your work, what you are currently focused on and most proud of.
When I moved back to Georgia to be closer to family, I made a conscious decision to stand out as 'a new kind of Assistant Professor' who both studies and personally values mental health. I challenged the "publish or perish" mindset of academia with an email signature that reads "peace and productivity" as a frequent reminder to myself and others. Academia is a very competitive and political space where intellectual property is seemingly more valuable than gold, and TENURE is the huge pot at the end of literally everyone's rainbow. I'm on the tenure track at UGA, which basically means I'm doing research, teaching, and service, towards the goal of being deemed by my university as irreplaceable (intentional Beyonce reference and ironic way of saying I can't be fired).
As a Tenure Track Assistant Professor, I founded and direct The EMPOWER Lab. My research has expanded since undergrad, and I now have three areas of focus that include understanding the impact of interpersonal and racial trauma and the protective and healing role of Black parent-child communication, evaluating existing mental health treatments and programs for their effectiveness in helping Black youth, and developing and modifying cognitive-behavioral trauma treatments for Black youth. All of my grant writing, publications, and presentations are informed by the families, therapists, students, and communities that I work with. On-campus, I teach multicultural psychology to undergraduate and doctoral students, and I supervise master's level student clinicians as they provide therapy and assessments to diverse child and family clients.
I also train licensed clinicians in the community, and I do workshops and webinars and provide consultation services to organizations and individuals on providing culturally competent and responsive care. Conferences allow my work to reach larger audiences and to travel boldly like my mother did, and I've presented my research both nationally and internationally. I'm blessed to have colleagues who are all geniuses in their own right and not-at-all competitive, and I am so thankful that many of them have become my loudest cheerleaders. Like my mentors before me, I encourage my students to speak even when their voices shake, and I remember to praise them in public and to chastise them in private. Hopefully, what sets me apart from others is the fact that I know that if I am set apart, it's only because of those who have illuminated me in this way. My hope moving forward is to inspire and uplift the next generation so that they can all shine similarly and of course, for my mama to be proud of the work we're doing.
Contact Info:

Image Credit:
Chanel Jaali Photography
Suggest a story: VoyageATL is built on recommendations from the community; it's how we uncover hidden gems, so if you or someone you know deserves recognition please let us know here.