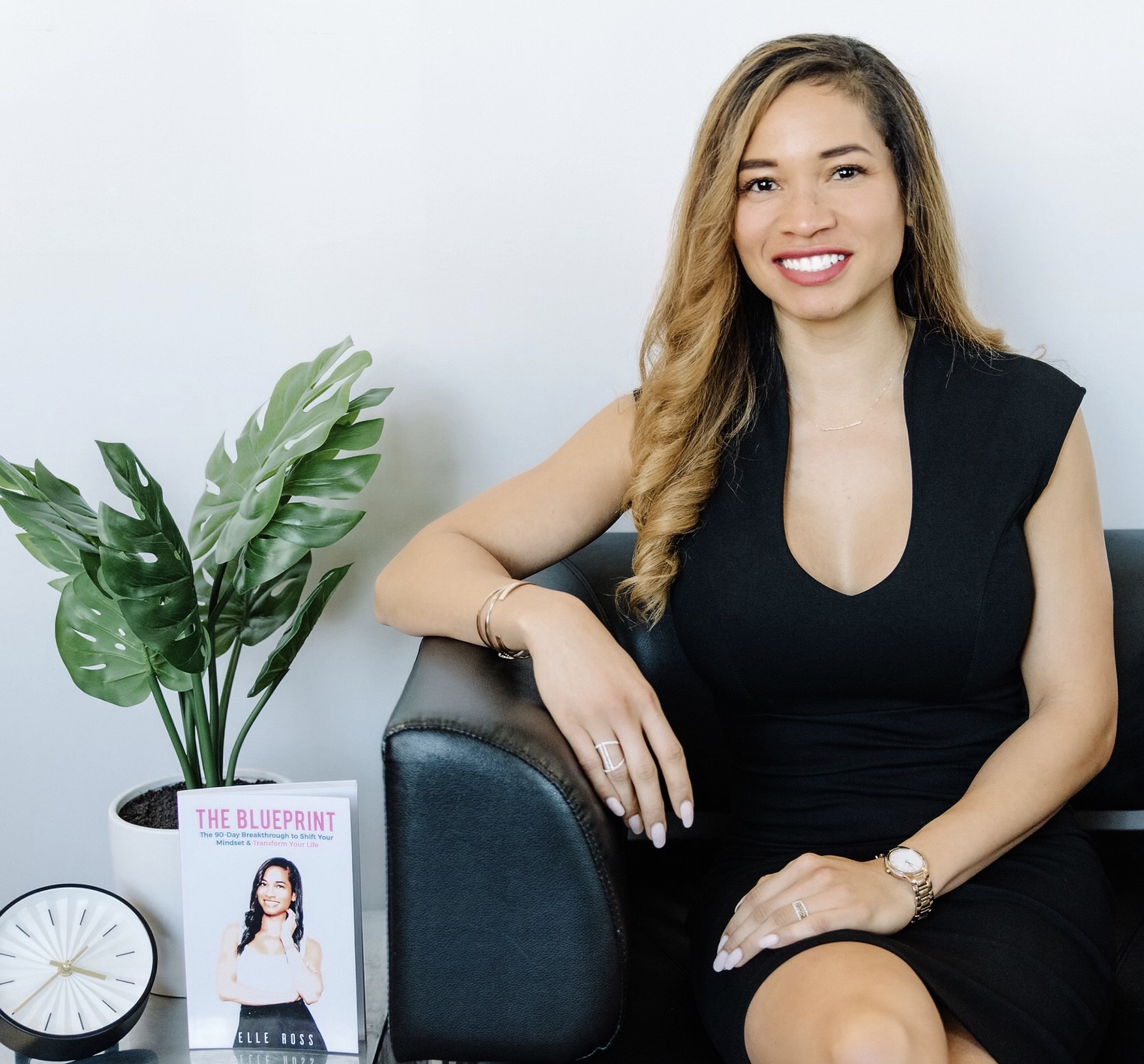 Today we'd like to introduce you to Elle Ross.
Elle, can you briefly walk us through your story – how you started and how you got to where you are today.
I am a Holistic Fitness, Branding & Lifestyle Coach. As well as Best-Selling Author of "The Blueprint", Mentor, and offers nutrition planning. I help busy create balance women to boost energy, confidence, BFIT & feel amazing. As well as teach fitness & health coaches how to build their online personal brand helping increase their impact, influence and income.
My motto is fitness is more than just the body; it first, most importantly, begins in the mind. Similar to exercising and building our body's muscles, we also must exercise and strengthen the mind. Everything we do in life first stems from the idea and thought, and then we must take consistent action to bring that dream to fruition. I believe that we all have the capability to reach our full potential, as long as we strongly believe in ourselves.
I myself have gone through my own personal transformation. From living a toxic lifestyle of alcoholism, drug abuse, toxic relationships, pre-diabetic, suicidal, jobless and depressed. To completely improving my life toward a healthier–mind, body, and soul. I fully committed to taking action toward positive change. Dedicating myself to a 90-day SELF-cleanse to shift my habits & transform my life holistically. I created a systematic structure within my life. It was challenging in the beginning, but I persevered and stayed consistent. Through the process I lost over 30 pounds, became sober, healthier and a successful business-woman doing what I love most. Helping others create lasting positive changes from the inside out. This lead to the creation and launch of my book "The Blueprint" The 90-Day Breakthrough to Shift Your Mindset & Transform Your Life."
These daily practices and the routine created became embedded within. Since I have maintained these same practices. The 90-days turned into a lifestyle. My life has transformed completely for the better, all through making the choice to become a better version of myself. Taking action, staying consistent, and being fully committed to growing into my full potential daily! MyBest Self!
Now, it is my mission to inspire others to live and lead healthier, holistic lives. Get in tune with their deeper subconscious, and gain greater clarity and self-love through the daily practice of creating self- transformational habits. Through sharing my journey and experience with you, in hopes that you can accomplish and achieve similar enlightenment, fulfillment and develop into the Best Version of Yourself.
Overall, has it been relatively smooth? If not, what were some of the struggles along the way?
It was definitely not a smooth road. There were days that I wanted to quit. Days I want to give into temptation (Food, drinks, events, friends who do not support me wanting to better my life, social media, etc.). But the key was remembering my WHY. Why I decided to make this shift and change for your life? Wanting to improve, become more, become healthier and happier holistically. It took sacrifice and consistency day in and day out. Learning to say NO more and Yes, less.
I always say and believe: "If it does not add value to your life, purpose or mission; leading you forward closer to your goal; then leave it and let it be. Do not give in." This includes people, places, events, television shows, food and social distractions.
The first step is to become honest with yourself. Self-Awareness and realization of your current actions and habits hindering your progress is the first step toward growth. Once you are aware, next it is time to establish order within your life. What can you take away, and substitute in? Creating and designing your daily routine, morning rituals to jump start your day, and a plan of action to execute and conquer. This may be rising earlier, and instead of drinking a sugar filled caffeinated beverage, opt for an 8 oz glass of water instead. Then take 10 minutes to stretch and do some form of physical activity. On the drive to work, listen to an inspirational podcast, versus gossip on the radio. Choose the healthier option at lunch and possibly take a mindful meditative walk after.
Start small, then you can increase various shifts within your daily routine. Small changes compounded over time lead to massive transformation and success. You will not see the changes in one week, nor a month. But continue your consistency for 90 days and beyond, and you will see results. And if you need an extra push; motivation & accountability. Reach out! 😇
Please tell us about B-FIT with Elle.
As a Holistic Fitness Coach I focus on the wellbeing of the mind, body and soul. My business name is B-FIT Fitness aka B-FIT with Elle. B-FIT stands for Balanced-Focused Intentional Training. I believe that my focus on living a BALANCED lifestyle is what sets me apart from others.
BALANCED Training combines total body movements with resistance, HIIT and power exercises. It has the ability to strengthen, uplift and empower people on all fitness levels. I love facilitating the process of self-discovery, conquering a new challenging move, and sweating from the inside out that is inevitable in this practice. It's so satisfying to help others tap into their potential, transform themselves and return to their daily lives with a renewed sense of clarity, passion, purpose and well-being.
As a Branding Coach, I focus on getting to the core of one's brand story. Then teaching clients how to identify their ideal client, consistently create and deliver value. As well as how to develop systems that allow them to monetize their social media; plus so much more. This is all taught within my Brand Trainer Academy.
In addition, along with what I am known and what sets me apart is always giving exceptional service. I have been there, just starting out in fitness and building a business, so I know the struggles. I truly care about my client's results and always go above and beyond. I allow 24/7 access, accountability calls and coaching. I deliver daily and weekly fitness & branding tips via social media and email. I offer 1:1 nutrition counseling, mindset coaching, as well as access to my B-FIT with Elle App (for fitness clients). All VIP clients also receive a copy of my book "The Blueprint" (that is what I am most proud of 😇).
Overall, I want to continue to mission to inspire and create a positive impact across the globe. Becoming fit physically, mentally, and in business. I strongly believe it all begins with a desire and commitment to decide to make a change. Once you do, then you must become fully invested to transform into your best self. First, we must shift our mindset and focus, accompanied with proper nutrition, a solid exercise routine and business strategy. Combined you have the capability to achieve your goals and optimum results. I am here to help coach you every step of your journey.
There's a wealth of academic research that suggests that lack of mentors and networking opportunities for women has materially affected the number of women in leadership roles. Smart organizations and industry leaders are working to change this, but in the meantime, do you have any advice for finding a mentor and building a network?
My advice for finding a mentor or networking in general is to start putting yourself out there now! Start sharing your story. Start delivering and offering value to your audience. Be generous and giving. If you are not doing so already. If you are, don't stop and do more.
Do not be afraid to reach out and engage with the people you admire or would like to learn from. Ask questions.
Research and find events/gatherings where there will be people of like minds and interests that you could potential partner/collaborate with.
Always invest and learn more in your field or area of interest – Your Passions.
This is what I have done and continue to do, that has helped build my brand and business to where it is today. As well as continues to help produce greater scale, reach and growth.
Contact Info:
Image Credit:
@jerrinamontgomery, @whyweighttv, @sheamarieflora, @Joshua_d_jackson,
@callmemr.jacobs, @forneskeller
Suggest a story: VoyageATL is built on recommendations from the community; it's how we uncover hidden gems, so if you or someone you know deserves recognition please let us know here.