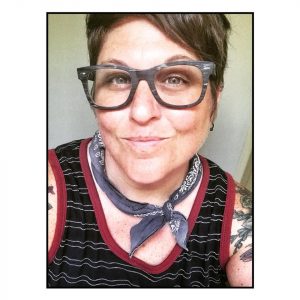 Today we'd like to introduce you to Alli Royce Soble.
Alli Royce, can you briefly walk us through your story – how you started and how you got to where you are today.
I am an Atlanta Native. I have lived, grown up, and built my life here. I have been making art my entire life.
The desire and passion to create started very early for me.
Art was always a part of my world.
I never was a child that played with dolls. Instead, I preferred to be drawing, doodling or what not.
My love for photography began early as well.
My parents gave me a Kodak DISC camera when I was ten years old.
I would take pictures of everything and everyone.
I was just having fun, but in reality, I was already documenting my life.
Leap forward to my college years.
I went to Georgia State University and received my BFA in Photography in 1998.
I had amazing teachers that were/are highly influential to me.
Connie Thalken, Nancy Floyd, John McWilliams, Ruth Dussealt, Pam Longobardi, and Larry Walker.
Larry Walker was specifically a critical professor in my life.
Mixed Media and Collage was what he introduced to me. As a portrait photographer, I was having a difficult time changing my artistic expression towards painting. This class bridged that gap for me.
I then began doing mixed media of my photography and incorporating it into my paintings.
That was the beginning for me and my idea of what art is to me and how many ways can I explore it.
Meanwhile, I immersed myself it the Atlanta art scene and started putting myself out there. Seeing exhibitions at galleries and alternative art houses. That was eye-opening and wonderful.
Meeting other artists and seeing your peers. I see that this is my community, my people.
I also start working for a restaurant in Virginia Highlands called La Tavola. I started there in 2000 and stayed for 14 years.
It was only 4 years ago that I took that Leap of Faith.
The background information leading up is necessary to talk about because of those experiences absolutely lead me to where I am and why I am able to do this. I built amazing relationships with the people who I came in contact with at La Tavola. I had 7 seats at my bar and those seats were always filled.
Loyal and loving people that I would see at least once a week.
They knew me personally, as I got to know them.
Many have procured art from me or have hired me to do photography.
I took that leap, I knew I could not fall. You really have to believe that It is risky AF, but the reward is priceless.
Bottom line is this: Build a genuine relationship with people.
Make Art when it Feels Right.
It doesn't have to be forced.
Hustle, Baby.
You have to sell yourself.
You have to believe in yourself.
I knew that I wanted to make art and take photographs for my entire life
That is all I knew that I wanted to do.
Now, I do it.
I maintain those relationships.
I create, I sell, and then I rest.
Self Care is necessary when you try to be a full time working artist.
Overall, has it been relatively smooth? If not, what were some of the struggles along the way?
It is what I would say is that ebb and flow kind of lifestyle. Being an artist is learning how to balance the peaks and valleys. In the beginning, I had really look at how I run my life. Financially, it can be Livin' High or Livin' Dry. Some months are better than others. You learn when there is a "slow season" and you prepare for that. This is why you have to HUSTLE. You are always working. If it is not producing the work, then it is marketing the work, then talking with clients. I happen to enjoy every aspect of that lifestyle. I am doing all the things that I want to do, but it takes some juggling and patience to balance it.
Please tell us about House of Sobolovitz.
House of Sobolovitz.
I came up with that name for a few reasons.
First, Sobolovitz.
That was my last name before it was changed to Soble.
My Family has been always encouraging, inspiring, and supportive of me as an Artist.
I thank and honor them because they gave me the freedom to express myself starting very young.
I honor my Family, so it named it after them.
I have moved my studio many different times in my life.
It is interesting to see what you create within the different spaces.
House of Sobolovitz is my studio.
It is wherever I create my work.
I post my various works on IG and use #houseofsobolovitz to tag everything that I do.
It could be my portrait work, my documentary work, my food photography, my pop art portraits, paintings, drawings, mixed media… what not.
It is a way for me to keep a visual diary of my work
and the people that I have met and who have collected from me.
I guess I just do a little bit of everything. It is a fun juggling act.
If you had to go back in time and start over, would you have done anything differently?
I would have given myself a little more room for recharging. It is just learning the balance of what works right for yourself. To create or not to create.
Contact Info:
Website: IG #houseofsobolovitz
Phone: 678-907-0031
Email: alliroyce@mac.com
Instagram: roycetakespics
Facebook: roycesobolovitz
Twitter: roycetakespics
Getting in touch: VoyageATL is built on recommendations from the community; it's how we uncover hidden gems, so if you know someone who deserves recognition please let us know here.