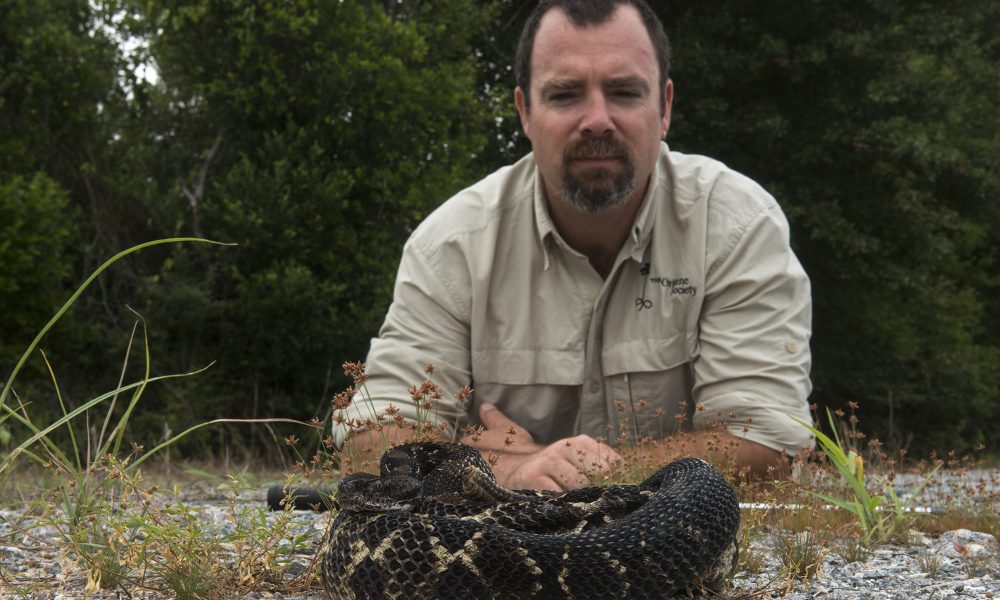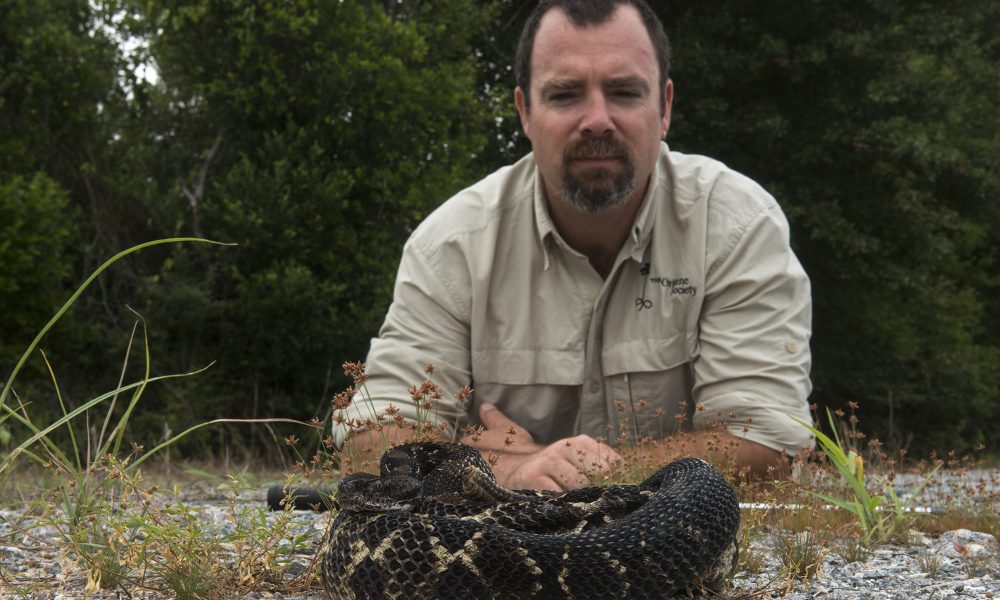 Today we'd like to introduce you to Christopher Jenkins.
Christopher, please share your story with us. How did you get to where you are today?
I founded the Orianne Society in 2008 as the leading organization in world for the conservation of rare and endangered reptiles and amphibians. My interests in this misunderstood group of animals began with paralyzing fear. As a child, I can remember the handful of instances I encountered a snake and the uncontrollable fear I felt almost paralyzing me. As I entered college, I was an Art History major but when I took an introductory class in wildlife biology it brought me back to my childhood growing up in a rural area hunting and fishing. I immediately changed my major and began spending all my time in the woods, I wanted to be a bear biologist. But my first internship was working in California with turtles and amphibians and when I returned home I found myself spending less time tracking mammals but instead going to wetlands looking for frogs. It was about this time I realized that my childhood fear of snakes was actually a deep fascination. I purchased a pet snake and began to spend time looking for them in the wild. Eventually, I overcame my fears and went on to do my doctoral research on Great Basin Rattlesnakes in the West. Following my dissertation, I took a position with Wildlife Conservation Society (best known as the organization that runs the Bronx Zoo) working on wildlife conservation in the Greater Yellowstone Ecosystem. While working for WCS I met a philanthropist that wanted to start a foundation to save an endangered species of snake. The snake occurred in Georgia and I moved to the southeast to start an organization focused on saving the eastern indigo snake. We had made significant strides in recovering this declining species when the original donor decides to begin pulling out his funding. In response, we quickly transitioned the organization to a public charity with a much broader scope working on species conservation around the world. The organization continues to struggle as we complete the transition from the initial funder but we have been able to raise enough funding to keep the organization the same size and have achieved a great deal of conservation along the way.
Overall, has it been relatively smooth? If not, what were some of the struggles along the way?
It has been a difficult road at times. I would not call myself the smartest person but instead I have persistence, work hard, and good intuition. These traits have allowed me to go far but it often has taken an incredible amount of energy to learn something that might have taken others only a brief amount of time. Relative to Orianne Society in particular there have been two major hurdles, both of which we are still we are still working to make it over. First, the average person simply does not care as much about reptiles and amphibians as they do other things in their lives. It can be difficult at times to communicate the value of these amazing animals. But we have been making significant progress. Second, we had an incredible start with significant amounts of funding but the transition of the benefactor away from the organization has been a hard one financially. We had to completely change the organization. First, we expanded our scope beyond Georgia and the indigo snake. Then we needed to expand our board, begin a membership program, and hire fundraising staff. It can be quite difficult to raise funding for a charity that others often see as someone else's project but we have changed the organization to a truly public entity and one that anyone can have ownership in if they want to get involved. Overall the transition has been difficult but we are making it.
Alright – so let's talk business. Tell us about The Orianne Society – what should we know?
The Orianne Society conserves rare reptiles and amphibians and the habitats they need to survive. We are a science-based organization that does both the science and the on the ground conservation work. What sets us apart from other organizations is that we are the only reptile and amphibian focused nonprofit that does both science and conservation. It is a powerful approach; you might find our staff developing a model that defines the most important habitat for a species but we do not stop there, we would then go into those habitats and work on protecting and restoring those habitats. There are so many things I am proud of to list a few, 1) Founding the International Union for the Conservation of Nature's Viper Specialist Group, 2) Acquiring and protecting thousands of acres of sandhills habitat in Georgia, 3) Restoring tens of thousands of acres of wildlife habitat, 4) Developed a novel survey technique for rare salamanders that is now the industry standard, and 5) Reintroduced indigo snakes back into habitats they have been extinct in since the 1950s.
Any shoutouts? Who else deserves credit in this story – who has played a meaningful role?
So many deserve credit, perhaps my two greatest mentors are my two graduate advisors, Kevin McGarigal (University of Massachusetts) and Chuck Peterson (Idaho State University). I would not be here today if it was not for my father, he raised me as a single parent and made me go to college. If he had not, I would probably still be living in my home town. I also would credit my Pepere (Grandfather) and uncle who are the people who introduced me to the outdoors as a child. In terms of Orianne, there are so many people to credit I cannot list them all but we have a long list of universities, nonprofit, agency, and private partners, without them we would have achieved nothing. Conservation is a team sport. Finally, my family has been so supportive of the long night and time travelling, they are my rock.
Contact Info:
Address: The Orianne Society
11 Fruitstand Lane
Tiger, GA 30576
Website: www.orianne.org
Phone: 706.224.1359
Email: info@oriannesociety.org
Image Credit:
All images are credited to Pete Oxford