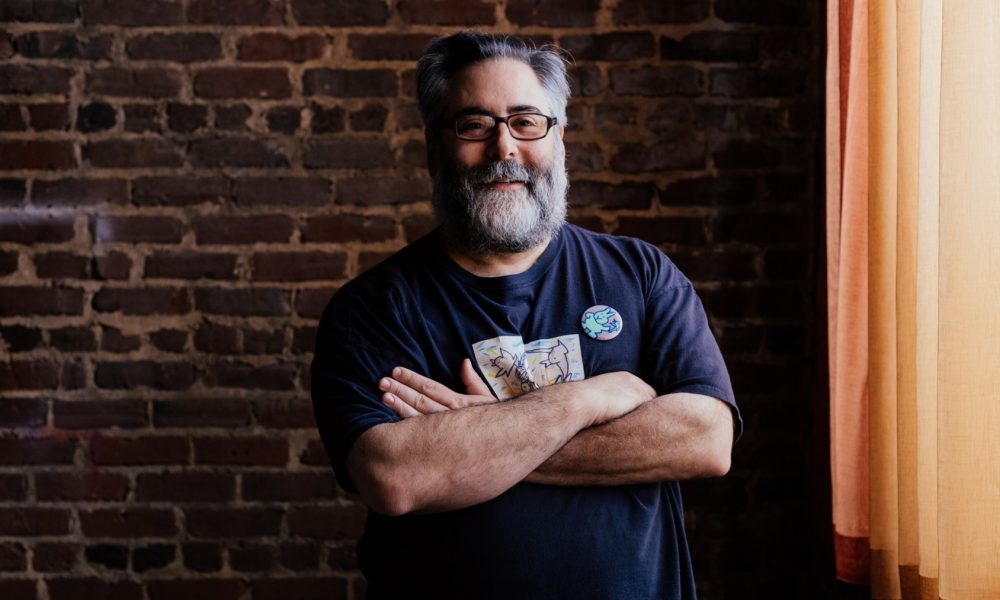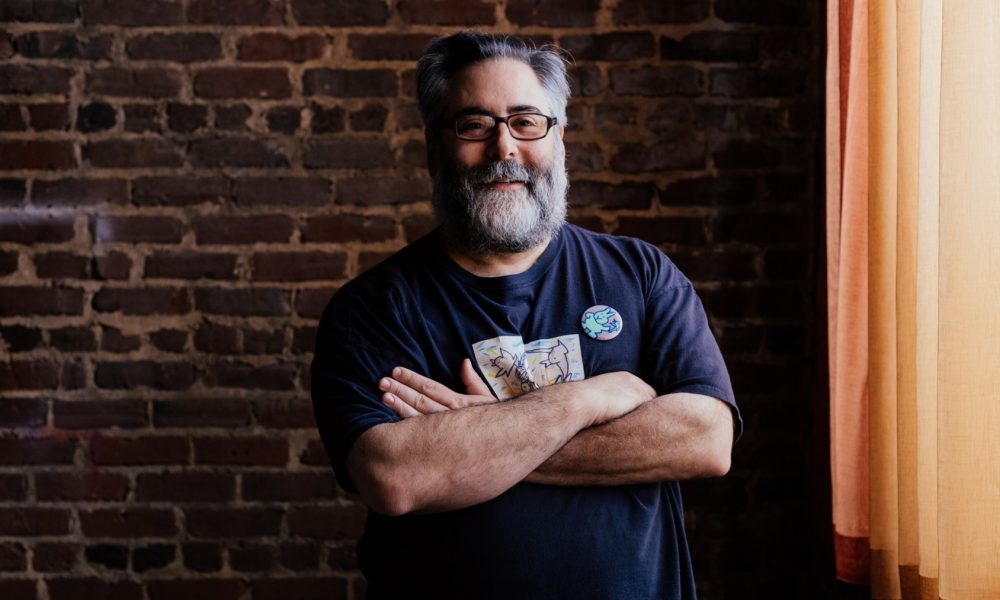 Today we'd like to introduce you to David Doodleslice Cohen.
David, can you briefly walk us through your story – how you started and how you got to where you are today.
Once upon a time, there was a math major in Minnesota who was running across a field to catch a frisbee and caught an oak tree instead. When he woke up he was an artist. Now he lives in Atlanta.
Well, that's the abbreviated version. Basically, I've been a logical and literal person, and a daydreamer all my life. Although I finished undergrad as a math major I ended up going on to get two masters degrees in Fine Arts. An MA at Montclair State and an MFA at the Hoffberger School of Painting, which is part of the Maryland Institute, College of Art.
I came to Atlanta at the end of 1996 during a period of major burnout with the Baltimore art scene. At the time I was teaching in my studio and at Carroll Community College, and had been working in the AV department for MICA. The latter job gave me the opportunity to play with some web technology very early and I ended up taking a job making websites and web user interfaces for a little startup. That startup got purchased by a public company here in Atlanta so I packed my bags for new adventures.
The next few years were intense, but not great for my art. I threw myself into the tech startup world and ended up co-founding a company that grew really fast and then crashed really hard when the dot-com bubble burst. The whole time my goal had been to put together a nest egg so I could pursue my art with some financial freedom. Didn't happen. But what did happen is that I started to realize that I was miserable in the tech world and tired of always putting my art on the back burner. I resolved to reconnect with my creative side and that led to a shift in my art.
My earlier work was dominated by large-scale non-objective paintings that owed much to the inspiration of artists like Morris Louis, Gene Davis, and Sam Gilliam. But the art I began to gravitate toward was simpler, smaller, lighter in tone, more lyrical and cartoon-like, and now included animals, birds, rhinos, and especially bunnies. If there is a continuity between the current work and the older work is that I've always taken a very improvisational approach to creating images. I feel I am at my best when I am in the flow of working fast and directly.
A major milestone in this evolution was an opportunity I had to do a show in 2014 at Hodgepodge Coffeeshop & Gallery. At the time Lynne Tanzer took a chance and let me hang a show I called 1000 Drawings by Doodleslice (it actually ended up being 1103 pieces). This really cemented a lot of things for me about my approach, and the kind of message I wanted to put into the world – one of hope, joy, and one that creates a space for innocence to thrive.
Since that time I've just tried to be true to that trajectory, sharing joyful art, finding ways to bring smiles to people online and in person through images and shows. I also became active and a big fan of Free Art Friday – if you're not familiar with that check out the hashtag on Instagram #FAFATL – it's an amazing movement and a huge community in Atlanta that has helped me connect with tons of wonderful talented artists, and has brought me into nooks and crannies of the city I never even knew existed.
Along with my continuing fascination with drawing bunnies I've also created paintings, short animations, and lots of poems. This has led to some more recent projects, and the one I am most proud of is my first book, Color Me With Hugs, which is a collection of 44 drawings for coloring, each paired with an original poem. It's meant to delight adults, yet still be kid-friendly.
And that brings me up to the present: working on new books, always painting and drawing, and lately, exploring some ideas for taking my cute animal images into some kinetic art. The adventure never ends. 🙂
Has it been a smooth road?
Oh yeah, plenty of struggles. Is it easy for anyone? First of all, there is the financial struggle – it takes a lot of juggling to both make art and sell it. Most of us, and I certainly do, take on freelance projects, and other types of work that might be creative, but aren't expressions of our artistic vision. I write, coach, make websites, and wear a few other hats so that I can keep the flexibility to make the art I want and still keep a roof over my head.
Other types of struggles come in the form of focus. I have more ideas than time, and sometimes I end up paralyzing myself because I feel like I should be finishing one thing while my brain is already digging into something else. This also impacts marketing for my art – it's always more fun to create something new than it is to put in the time to promote and do all the administrative and legwork needed to give your art a chance of being seen, let alone being sold. And I know I'm not the first artist to say that self-promotion is a struggle.
Perhaps one of the biggest obstacles I've faced recently has been in my personal life. My ex and I split up right when I was in the middle of making Color Me With Hugs, It really took the book off the rails along with everything else in my life. But what can you do?
The project was important to me so I picked up the pieces and eventually got the book back on track, but it was hard. Especially since I was trying to make a happy, joyful book, when I was in a period of depression, anger, self-pity, and just plain hurting. For a while, I couldn't even pick up a marker.
But as things calmed down and a new normal started to come into my life I was able to start once again to make drawings for the project. The poetry took a bit longer to get going again. Too many other emotions were crowding into my words, but eventually, I found the groove again and I'm very proud of how the book finally turned out. Thank goodness I had the support of some amazing friends along the way. And I want to give my friends in the Atlanta Sketch Society a special shoutout for hanging in there with me during a rocky stretch.
So, as you know, we're impressed with Doodleslice – tell our readers more, for example what you're most proud of as a company and what sets you apart from others.
Well, I still wear a lot of hats. I sell art at markets and online, along with various t-shirts and other merchandise. I occasionally do murals, and of course, there is the book. I also offer a variety of other freelance services including business writing, illustration, web design, and coaching.
After creating art, the coaching work is what I find the most rewarding: I help creatives and small business owners with a process I call Whole Brand Thinking™, which involves a series of intensive sessions designed to unlock the key elements of the client's personal story and how it relates to their business goals. Clients have dubbed it Brand Therapy and have said the result is like having a personal compass to help guide them as they navigate their future business decisions.
A few places you can keep up with me online:
–www.doodleslice.com is my main website and has links to my online shops.
–www.equationarts.com is for the rest of my freelance work and coaching.
–www.colormewithhugs.com/book will take you straight to the book.
-And @doodleslice will find me on Instagram and Twitter.
Let's touch on your thoughts about our city – what do you like the most and least?
I love Atlanta. I came here thinking I would stay for two years, and now it has been 22!
Part of it is just a vibe that suits me, but it is also that it is a clean city with friendly people. It's a big city, that's not overwhelming – there is plenty to do, but you can chill here too. And it has been great to watch the city grow in so many ways during the time I've lived here.
I love the Beltline, I love how a real startup scene has grown here, I love how we are now a city where movies and shows get made. It's cool. There are also some amazingly talented artists here and it has to be the most supportive art community I've encountered. I grew up outside of Manhattan and things always felt a little cutthroat there. Here artists celebrate each other's success and rally around each other in tough times.
So what's the flip side of the coin? Well, every city has its headaches, and this is a tough town to find a decent bagel in, but more practically I'd love to see the city take more pride in its arts community, and I think it is starting to happen, but the process is slow. I'd also like to see more ways for different types of artists to connect with each other.
There is so much talent around, but sometimes it feels like there are separate pockets and separate outlets, tattooists over here, comic book artists over there, gallery art in one circle, street art in another. And that's not to mention other disciplines – I'd love to see more connections and interdisciplinary projects between poets, dancers, photographers, sculptors, and other creators.
I think that type of interaction would bubble forth the kind of creative excitement that could propel Atlanta's art scene to be on par with places like NYC, LA, and Miami.
Contact Info:
Getting in touch: VoyageATL is built on recommendations from the community; it's how we uncover hidden gems, so if you know someone who deserves recognition please let us know here.