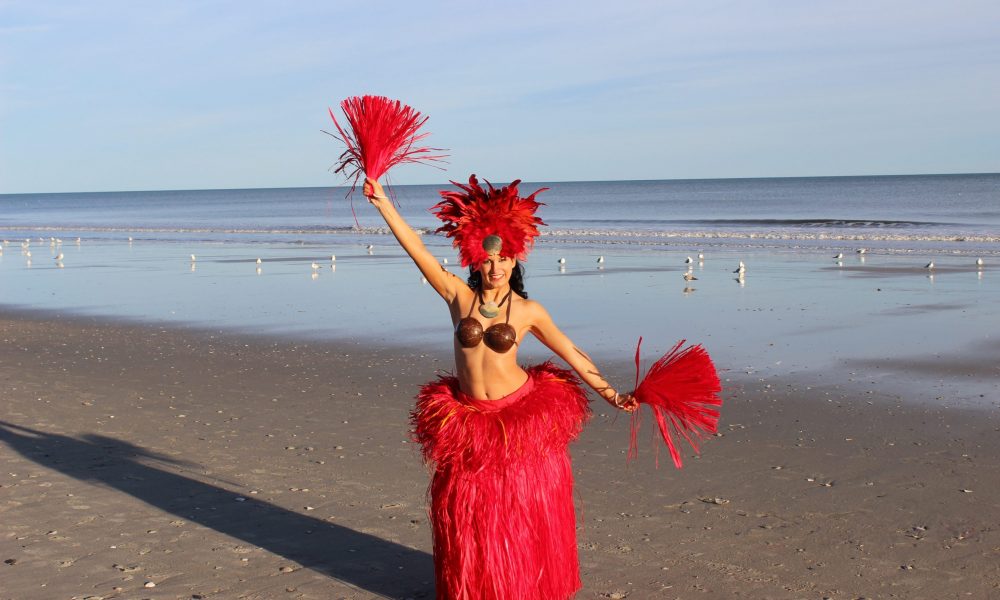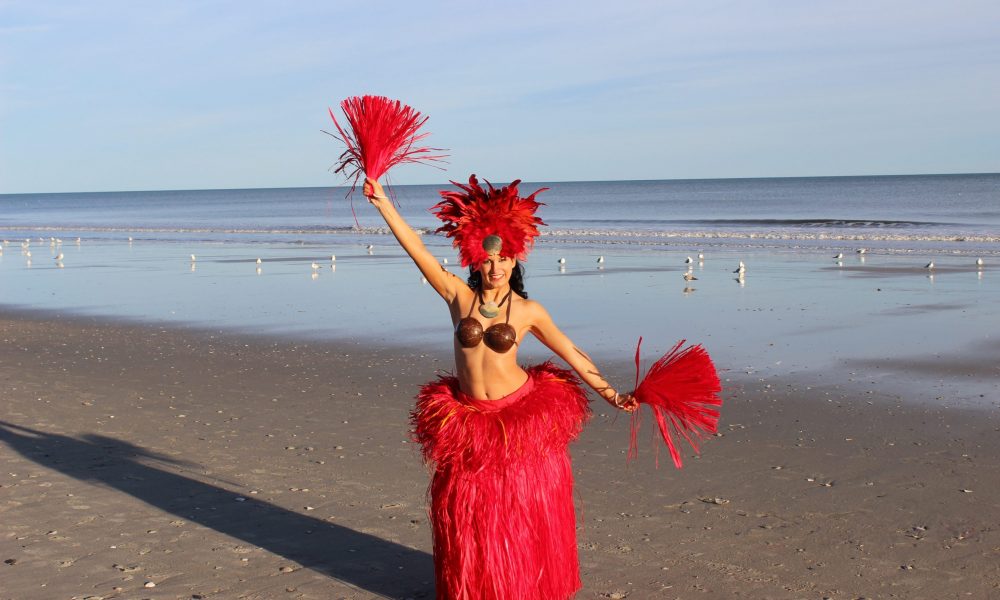 Today we'd like to introduce you to Dawn Mahealani Douglas.
Dawn Mahealani, can you briefly walk us through your story – how you started and how you got to where you are today.
It seems I was entertaining audiences on stage before I could walk. My parents entered me in baby shows and by the time I was competing in beauty pageants and dance competitions, I was hooked on the thrill of the audience's reaction. I explored different dance styles growing up from ballet and tap as a child to cheerleading and hip hop as a teenager, and then I spent my early adulthood focusing on ballroom dancing and specifically, the Latin dances. I never considered myself a great dancer, but I knew I was a great entertainer and I was passionate about all of the planning that went into coordinating routines and costumes for a showcase or competition. Dance was definitely my escape from the more mundane world of teaching college classes as a profession. By the time I had traveled quite a bit for ballroom competitions and had some exciting moments such as a 5th place in the World Pro-Am Championships in Buenos Aires, I started teaching social dance. That was short-lived, however, due to a foot injury following a mission trip that would possibly require surgery. Wearing the heels was just too painful and I feared I was losing the love of my life that dance had become, but God was redirecting me.
All the time I was dancing, I was also working as a model and actress in print, commercials, and television including dancing and playing a dance instructor on some television dramas. Live entertainment opportunities kept coming my way since I had the ability to combine character and dance to fit almost any themed event. When people started asking if I could entertain at luau themed events, my whole world changed. As dancers, sometimes we are naïve in thinking that we can imitate other dance styles without proper training simply based on previous training, but the hula of Hawaii seemed to be a secretive and elusive art if you live on the mainland and especially here in the Southeast. I quickly realized that there was an incredible amount of technique involved when watching the famous, Merrie Monarch Festival. It goes well beyond the glossy images we have seen from luau shows targeted to tourists. It has always been a sacred dance, and studying it is like a religious practice even today with many protocols in place to protect how it is presented. After all, it is how genealogy and history were passed down generation to generation before there was a written language. The hands along with the whole body communicate to the audience. I took a leap of faith and contacted a kumu (master hula teacher) out-of-the-blue and booked a trip to Oahu for an intensive, week-long study, even staying at her house. This has become a twice-yearly, pilgrimage for me where I learn history, language, dances, playing instruments, and assembling costumes, and I come home with sometimes up to 10 new mele (songs) and oli (chants) for hula and even Tahitian dance numbers and Maori dance numbers representing the rich history of Hawaii and the Polynesian people.
I feel I was reborn with my new Hawaiian name, Mahealani, which means night of the full moon (I arrived in Hawaii for the first time under the supermoon). I had a new dance style that I was passionate about, and it required being barefoot, meaning I could keep dancing and not undergo surgery. I started out performing solo my first year with just a couple of hula and Tahitian routines I felt good about, but my mind was blown when I realized I had booked over 200 performances that year and I needed to add more content to shows and teach additional people to perform with me. I began slowly adding female dancers and male fire performers to get to the point where we are today, which is a group of 10 consistently performing over 200 shows a year across 5 states in the Southeast from small, family events to large, corporate and public events that include companies with headquarters in Atlanta like Chick-fil-A, attractions with annual events like Zoo Atlanta, and air force bases and universities. I have been featured on local news stations the past two years, and most recently, we have been contracted for a monthly Polynesian revue at a new tiki bar in Midtown called Tiki Tango starting first Saturdays in May. As far as I know, there has never been a Polynesian revue in Atlanta such as the ones you see in tiki bars on the West Coast or in Chicago or Fort Lauderdale. Our show also closely follows the format of the luau shows at attractions and hotels in Hawaii, and everything I do is based on the wisdom and blessing of my kumu. The most important aspect to me is sharing the traditions of the culture as they have been shared with me.
We're always bombarded by how great it is to pursue your passion, etc – but we've spoken with enough people to know that it's not always easy. Overall, would you say things have been easy for you?
Whenever you venture down a new path in life, there will be struggles. Family and friends thought I was crazy when I took off to Hawaii for the first time, and I don't think my kumu thought I would be returning after that first trip. Of course, no one expected me to have so much success right out of the gate, so much so that I was able to quit my day job and turn my side business into my full-time work halfway through my second year in business. I mean, who could imagine that someone could make a living as a hula dancer in Georgia, of all places?
Aside from the naysayers, in the beginning, there have been some struggles unique to what I do as a cultural performer, particularly that there are none for me to learn from or just have as a support system nearby. Thankfully, my kumu and friends in Hawaii who are also performers are just a phone call or e-mail away. It still requires that I make some decisions on my own and get creative with limited resources in the area. For example, coming from a partner dance background, I hoped for a male partner who could add the masculine form of the dances to my shows and also work to develop other male performers, but that just has not happened yet. The fire performers in my shows who are from circus backgrounds make up for it with the props and stunts they do in addition to the Samoan fire knife. I have also become a master of crafting costumes and making quick costume changes for myself and my female dancers to be able to fit Hawaii, Tahiti, and Aotearoa (New Zealand) representation in our shows.
We'd love to hear more about your business.
My company, Mahealani's Polynesian Entertainment, perpetuates Hawaiian and Polynesian culture through entertaining and educational experiences. Our theatrical show includes the elements of the luau shows in Hawaii from the blowing of the conch shell to the pulsating dances of Tahiti, to the storytelling of the Hawaiian hula, to the skills of the New Zealand Maori people, and ending with the exciting fire knife of Samoa. All ages love to watch and join in when we offer audience participation with each of the island presentations. All in attendance also learn that the music, instruments, dances, and costumes are unique to each of the island groups. There are a lot of misconceptions about Hawaiian hula and Tahitian dance being similar or using the same costume, but they are very different. Also, many people have never seen Maori dance. I am passionate about getting every detail right, and that's what I'm known for. Even in my solo shows, I present both Hawaii and Tahiti.
It's the overall experience that brings clients back year after year and brings word-of-mouth referrals. Not only are they enjoying by watching and participating, they are learning about other cultures through an accurate representation. That is hard to find in this part of the country, and I am proud that my company can offer that. In turn, I get to be a part of some of the most important days of people's lives from birthdays to anniversaries to promotions and anything else in between and I get to hear from them how I helped to make the day extra special and maybe even inspired some little ones to dance. It's also a special honor when I have the opportunity to perform for a Hawaiian family, and their kind reviews and referrals and even friendships are additional validation that I am on the right path. I really can't think of a better job. I am humbled and blessed by this gift of hula I have been entrusted with and will always honor the kuleana (responsibility).
What were you like growing up?
When I returned from my first trip to Hawaii, I remembered a photo of a 7-year-old me dressed as a Polynesian dancer. I immediately pulled it out of the photo box and thought back to that time my family was on vacation in Florida and took me to a luau show. I was in awe of the dancers and I had to have the costume from the souvenirs the show was selling. I told my parents, "I want to be a hula dancer when I grow up." I believe God places desires in our hearts, even as children, that never go away and those are glimpses into His purpose for our lives. My story also goes to show that it's never too late to make your childhood dreams come true. I hope I can continue to dance hula and inspire people with the aloha way of life for the rest of my days.
Contact Info:
Image Credit:
Personal photo – Myrtle Beach (Photo by Dorothy Douglas)
Getting in touch: VoyageATL is built on recommendations from the community; it's how we uncover hidden gems, so if you know someone who deserves recognition please let us know here.