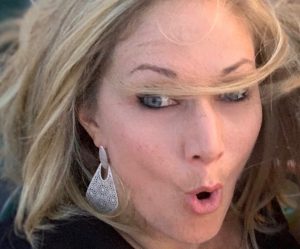 Today we'd like to introduce you to Julie Shaer.
Julie, can you briefly walk us through your story – how you started and how you got to where you are today.
Life is better when you're laughing – which is my mantra and my story. Hello. I'm Julie Shaer- co-owner of Sketchworks Comedy theatre based in Atlanta, GA. I am an Actor, Comedian, Voice Actor/Coach, Producer, Director, Wife, Mother and a wannabe professional tap dancer.
And I love to laugh. And make people laugh. What started out as a "yeah sure, I'll try out a sketch comedy class after years of not doing any theatre or acting at all," turned into my ownership of a theatre/sketch comedy company.
But let's just rewind, shall we… From playing the role of a poppy in "Wizard of Oz" at five, through countless musicals, singing and dance classes, to taking to the stage as a sketch comedian, I always infused humor into everything I took on.
As I recount the roles I had, I am thinkin' well man, I was busy and am now realizing how completely grateful I am. My first role EVER in a musical was, yeup, you know it – a singing poppy. I can hear the song so distinctly "Go to sleep, go to sleep while the poppies beguile, close your sleepy eyes awhile…" From there, things took off and I joined the local performance group in our town called "Jellybeans," which meant nothing whatsoever. We were quite famous in our town of Andover, MA. I mean come on, we toured to all the places- Kiwanis club, retirement homes, clown town (creepy name for a local carnival). I. could. not. stop – singing lessons, acting lessons, dance lessons (all kinds of dance, though tap my fav).
I was feeling good and now just in 6th grade, we had a famous dancer/choreographer, some of you may know him and if not, look him up, Jacques d'Amboise, and his production/dance team, came to our school to recruit kids for his big national program where just a few were selected for the SWAT team – no joke. We met in Boston on Saturday mornings to learn dances and then tour, like really actually tour, throughout the Northeast and ultimately perform at Madison Square Garden. At the time, no, I had no idea what an incredible opportunity that was, but I sure as hell do now. I even had a chance to work with Jacques one-on-one in one of our performances.
I was on such a performance high that I continued to train, audition, and perform by attending an intensive overnight theatre camp along during my high-school years for all kinds of shows – mainly musicals. Yeah sure ok I did do some Shakespeare, where I never landed a big role, but I did get to say one amazing line as a servant in "Taming of the Shew," – "They're not about the house, m'lady." Yes, nailed it! On to all the musicals I was in Alice in Wonderland, Joseph and the Amazing Technicolor Dreamcoat, Peter Pan, Godspell, Hair, Working, Pippin, Bye Bye Birdie, Anything Goes, 42nd Street…if you have not seen or heard of any of these, see them any chance you get. They are all amazing. If you are not into musicals at least see Hair- it's fun for all. And Pippin. And, well, I loved them all.
On to College. I auditioned for the Musical Theatre Arts program at Emerson College in Boston, MA. I got accepted. Holy what?! Well, you would think I would have jumped on that opportunity, but I opted to shift my focus to Television/Radio production and ended up attending Ithaca College – in one the coldest, snowiest, isolated places on earth (well I think so anyway and for the record, I did LOVE my experience there and made many long-lasting friendships and incredible experiences, so I am not bashing Ithaca, it's amazing… but I digress…) And don't worry I still had that love for theatre deep within me so naturally, I minored in theatre.
When I entered the "real world" – I soon figured out the harsh reality that making a living as a theatre professional ain't easy. Fortunately, I had that major in television and radio which landed me positions at Turner Studios in Atlanta, (much warmer!) as a producer on TV/film sets. My work as a performer on stage and in front of the camera was on hold.
Eventually, it dawned on me that since I had a knack and a love for being a jazz radio DJ as a hobby in college, I would check out the scene here in Atlanta. I immediately found the best classic Jazz station, WCLK, based out of Clark Atlanta University and just went in with a paper resume and air check cassette tape. I knew I would be out of my element there, and maybe not be taken seriously, but they took a chance on me, and this young twenty-something blonde girl got to cover shifts for the "Jazz at Sundown" program. I was in heaven being able to play all my favorites from Billie Holiday to Ella Fitzgerald.
My position there along with some other brief moments at other radio stations led me to produce my very own voice demo again on cassette tape. I bedazzled the cover and physically went into every voice agent in town seeking representation. A-ha! I got one with People Store. Now I have made it! Well, not exactly – lots of auditions, no bookings. I kept going and took more classes, workshops to build upon and enhance my skills. Once bookings started coming in, I became more confident and eventually started voice coaching which I am currently doing through Atlanta Voice Over Studio.
I was doing something, yet the world of theatre was calling me back and in 2005 that is exactly what I did. I took a chance on fusing my love for theatre and laughing and signed up for a sketch comedy class. From a student with Sketchworks to actor to instructor, to AD, Director and beyond – from the moment I stepped foot in the classroom, I knew this was to be my story.
I love what I do. Let me be clear and say that it may sound fancy, it is still hard work. The world of entertainment is serious – even comedy. It is also exciting, grueling, frustrating, refreshing, fun, and therapeutic. If you are passionate enough about something you'll do it and pursue it no matter what, especially when you share this love with others who have become close friends and family. And you get to find ways to make people laugh.
If there is any takeaway, it is this: though you may get sidetracked, whether it's in entertainment or accounting, it's ok – it happens – just listen to your instincts and don't be afraid to let it back in – BE BOLD. BE FEARLESS. BE YOU.
Go out there and get it girl! Or guy… or you! You know what I mean. Ok. Done. Byeeeeeee!
Thanks for reading. If you want to learn more or want me to give you a pep talk, which I do love doing, call me, we'll have coffee. Love, Jules
https://resumes.actorsaccess.com/julieshaer
@sketchworkscomedy @atlantavoiceoverstudio
#FREEVAPE (look it up, no for real, do it)
We're always bombarded by how great it is to pursue your passion, etc – but we've spoken with enough people to know that it's not always easy. Overall, would you say things have been easy for you?
No, it definitely has not been a smooth road, I mean does anyone really just coast along a smooth road, no, not likely. I think most of the struggle lies within ourselves- our self-doubt, lack of confidence. Sure there might be lack of support by peers and financial challenges, but a majority of your journey comes down to you.
My mother and I spoke about this and we both agree on this statement when people ask us advice on attaining goals and how to pinpoint exactly what they want to do:
When the path of the map of your life begins, you have no idea where it's going to end up (unless you are psychic, and in that case, good for you 🙂 Make the best choices you can, but don't be afraid to follow your gut even if that means sacrificing things to get you to that next step of growth in your business.
Always put yourself out there, be bold, be brave, ask questions, interview people, make connections by attending networking events, surround yourself with people that inspire and enlighten you and oh also with people that you can laugh with.
So, as you know, we're impressed with Sketchworks Comedy – tell our readers more, for example what you're most proud of as a company and what sets you apart from others.
There are two things I would like to speak about:
1) Sketch works Comedy Theatre- I am the co-owner of this comedy theatre. I am an actor, instructor, director, and producer. My speciality has been more of a focus on our education program for both adults and kids alike. I love and have a passion for teaching all ages to not just find their funny but to become the best version of themselves that they can be. We do a lot of improvs, character building and scene work. Believe it or not, within this instruction students learn how to loosen up, start to think on their feet, make bold decisions as an actor and allow themselves overall to have fun and yeah, laugh, of course.
Sketchworks Comedy prides itself on creating original, fully produced sketch shows. We incorporate very detailed props, costumes, and set pieces to enhance the overall experience and really allow the audience to immerse themselves in the world we create in each of our scenes.
2) Voice Acting- I am a voice actor and coach. Why do I call myself a voice actor as opposed to a voice-over talent? Well, simply because voice acting IS acting. This work is very much performance-based. You could have the best, smoothest, most unique voice in the world but not know how to get behind a mic and how to use it properly, how to put your whole self into it. It's important to always involve yourself as a voice actor in such things as improv, stage or on-camera acting, and of course sketch comedy (see what I did there).
This is why these two aspects of my professional world complement each other so well.
So, what's next? Any big plans?
Let me answer in bullet point style:
1) I am really looking forward to my theatre company growing and developing even more incredible programs. Our goal is to enhance upon on our kids/teen education department with workshops and camps as well as for adults. We have an incredibly passionate team to develop and implement all of the ideas we have for the theatre!
2) I personally am looking forward to doing more voice acting coaching one-on-one and even with a group of students for kids/teens and adults. I am developing ideas to incorporate my performance, sketch comedy background and fuse with voice acting instruction so that students have that as a base before even getting behind the mic.
3) For me: produce more voice demos for myself that will include promo, character and narration. Additionally, I am passionate about helping others with their commercial demos and look forward to doing much more of that!
4) Lastly, I am looking forward to Sketchworks prevailing and winning our case for #Vapethemusical. We are fighting the good fight for all creatives out there and exercising everyone's right to free speech as we are protected under the fair use law. 
Contact Info:
Suggest a story: VoyageATL is built on recommendations from the community; it's how we uncover hidden gems, so if you or someone you know deserves recognition please let us know here.