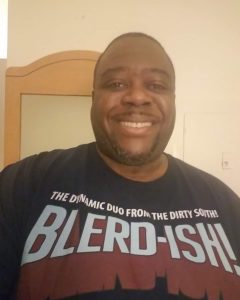 Today we'd like to introduce you to Keith Cooper.
Keith, let's start with your story. We'd love to hear how you got started and how the journey has been so far.
Blerd-ish was created by me and my partner, Mark Wallace. We started hanging out around the way a few years back after meeting through mutual friends. We basically found out we have a lot of the same interests. We both grew up loving comics and the usual pop-culture escapes that guys born in the late 70's/early 80's grew up loving. However, our nerd fandoms vary in such a way that discussing them never gets stale. So we decided to create our own podcast, trying to avoid the same old boring nerd hot takes and musings that are so common in this subculture. We really wanted to feature folks who look like us and create in these genres with black people in mind, or who do something positive in their communities. This has allowed us to interview a myriad of folks, from independent comic book creators, up and coming cosplayers, black yoga teachers, and even a black NASA rocket scientist, who just so happens to be a children's author in her spare time.
Our podcast lead to us starting a comic book and art pop-up shop. One of our Year One guests, Jason Reeves of 133 Art, helped kicked it off by asking us to sell his self-published and printed comics and children's books. That facet of our business wasn't even a thought initially, but has been fun, fulfilling, and rewarding. We went from being distribution for one creator to having several talented and really remarkable artists gracing our table at various events like Wizard World and Essence Fest. The cons are fun, but sometimes there is something special about meeting folks at small events who would never touch a comic book or graphic novel and you introduce them to something that is outside of the norm for them. I have had several people say they weren't aware that there are so many black comic creators or black science fiction writers. It is an absolutely wonderful feeling being able to bring smiles and excitement to families who want to read diverse works of fiction.
Introducing people to comics has lead to the creation of our own comic/coloring book that will be released soon.
Our book will be a parody of all sorts of geekdom and villains we encounter. I promise you will recognize some of the characters as people you may have run across in your everyday life. It will be a comical intersection of action, comedy, and anime-inspired art.
We're always bombarded by how great it is to pursue your passion, etc – but we've spoken with enough people to know that it's not always easy. Overall, would you say things have been easy for you?
I think we encounter some of the usual issues and growing pains that you encounter with pursuing your passion. Having enough funding and time for projects and event attendance is a consistent issue. How do you make your podcast or brand profitable? That is the grand question. Other than that, there are always hills to climb trying to get folks to listen or grab some merch from your affiliate stores. We have had some misfires working with some potential creators for the pop-up shop; collaborations that were discussed but never materialized.  There are some titles we have wanted for a while that we were finally able to acquire after a year's time. Other times, we will get a title to sell, and the print costs increase for the creator, causing us to no longer be able to carry it. As a small operation that we do in our spare time, you have to make sound fiscal decisions, make sure you don't get stagnant, and still try to take some risks to grow.
The podcast's challenges are the probably the same most people have. You want the show to stay fun, fresh, different, and a joy to do. We started out doing it as a weekly show, but after almost six months of doing it that way, we scaled back to not burn out. That was one of our best decisions, and has kept the show going for as long as it has. We now have a more refined eye for selecting the guests we want to invite and the topics we cover. We strive to not only have memorable guests, but to also avoid problematic ones. We have come across some of the strangest, most conceited head-cases out there while trying to book for the show. Nothing disturbs me more than the folks who want to tell you how to conduct your podcast. I am never rude to those folks; I just nod and let them fade off from our plane of existence. There is too much stress being an indie to deal with unnecessary egos.
Another challenge I will say that we face is finding the time to review more books and movies. It's not always easy to fit it in with the 9-to-5s. I am in awe of those who can cover so many nerd/blerd topics out there. They truly have my respect.
Sadly, we have also dealt with folks attempting to steal our brand name and use it for their own devices like making terrible t-shirts. All I can say is that if you get something that even mentions "Blerd-ish", and if you did not get it from us, it's stolen. Our name is trademarked.
We'd love to hear more about your business.
We specialize in interviewing black creatives from all across the blerd spectrum. Our guests range from comic book creators, writers, authors, cosplayers, business owners, poets, underground hip hop artists, etc. The main thing we have received the most compliments for by most of our guests is just being a fun pod. Folks usually know our podcast is meant as a way to discuss your project, or whatever subject we are kicking around, in a chilled, relaxed manner. We don't do the hot take/debate nonsense and we try to avoid some of the social media gossip/trashy subjects. I try to look for guests that are uplifting, interesting, and/or creating something that you can't help but want to talk about. If you are doing something dope, we want to hear about it.
As far as the comic pop-up goes, we are probably one of the few mobile pop-up/con vendors with a lot of variety. We try to keep a lot of independent titles from several artists that aren't locked up in the Diamond distribution system. It is often much smoother to talk to a creator themselves and see if they can come to an agreement with us that allows us to carry their title. It eliminates a lot of wasted money and time. Sure, not every attempt to carry a certain title has been a success. However, there is nothing like finding a new audience for a creator, and of course, making a few dollars in the process. Lastly (or firstly in some cases), folks like what we do with our merch store. Sometimes people who I have met from cons may have listened to an episode, bought a book from me, or just loved the tee shirt I was wearing to market the online store. I guess I am proud to use my platform to support folks' goals outside of the usual means. I am proud to own my own business, and proud to have introduced some folks to a lot of unique black literature they didn't even know they wanted or needed in their lives.
What were you like growing up?
I was a normal kid like most growing up the south in the early 80s, I suppose. Pop-culture resonated with me just like it did for many of my peers from that era. After-school and weekends included watching cartoons, Rap City, Saturday Night wrestling, church on Sunday, and my brothers and I were big NBA fans. We never missed All Star Weekend and always caught Inside Stuff between cartoons and music videos. My brother and I were big Marvel fans and loved the Hulk, Spiderman, and Fantastic Four. I guess you can say I nerded out over animation, the NBA, and one point in time hip-hop.  The last one has gotten more fickle for me over the years lol.  I have found me myself becoming a big fan of Lo-Fi hip-hop beats.  If I could ever be as relaxed as the avatars for those channels
 However, at a point, I grew up and tried being more serious and focused during my time at Southern University, while studying Accounting.  Then I worked in Governmental Finance for over a decade.  It was around that point that I figured out that "adulting" kind of sucks, but I had to do it. After I switched careers for family purposes.  I then asked myself, "Why did I stop doing the things I liked?" I started getting back into the things I love again with a renewed vigor. It has been a fun journey getting back into comics, anime, and fiction through this podcast and finding other content creators. Overall, I try to stay as chill as possible, and easing into some of the works by the remarkable creators we have been encountering helps with that marvelously.
Contact Info:
Suggest a story: VoyageATL is built on recommendations from the community; it's how we uncover hidden gems, so if you or someone you know deserves recognition please let us know here.