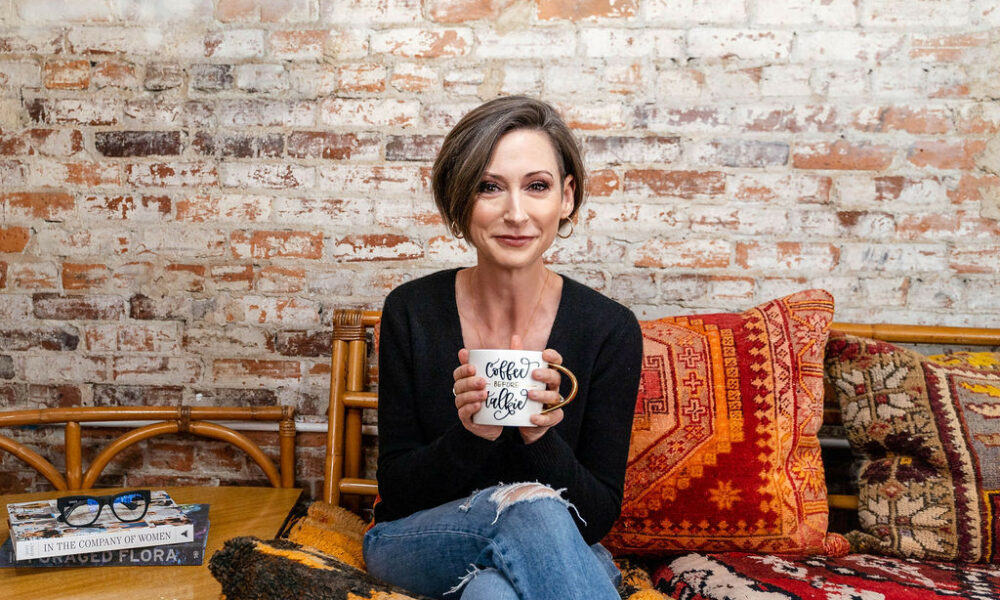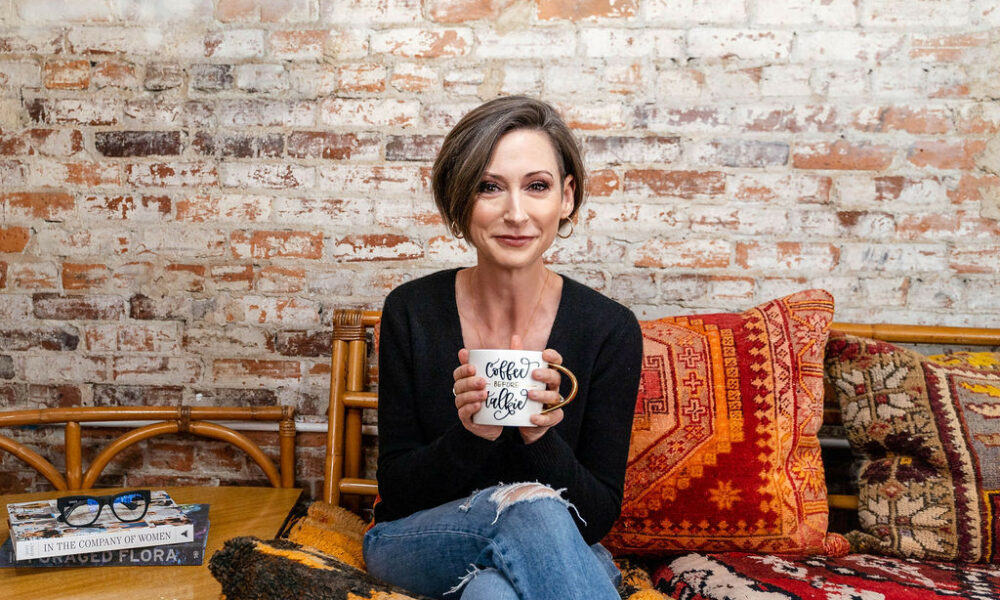 We are thrilled to be connecting with Lorrie Thomas Ross again. Lorrie is a Transformational Marketing Guide and is also a content partner. Content partners help Voyage in so many ways from spreading the word about the work that we do, sponsoring our mission and collaborating with us on content like this. Check out our conversation with Lorrie below.
Hi Lorrie, so great to have you join us again. For folks who might have missed our earlier conversations, can you please take a minute to briefly introduce yourself?
Absolutely! I'm Lorrie Thomas Ross. I am the CEO of a boutique marketing agency, speaker and also do work as a transformational marketing guide helping women step into their unique beauty – personally and professionally. My work helps intentional entrepreneurs cultivate lives that are on-brand and on-purpose. My journey to this work has been very organic. I have always been open to being open! To give some background, I am the founder of a marketing optimization firm called Web Marketing Therapy Inc. For over 15 years, my team and I have helped clients optimize marketing and invest in sustainable marketing solutions via our diagnose, prescribe and guide process that weaves in the art and science of marketing but also taps into the heart of marketing. We help clients get on the right path to stress-free marketing in a way that aligns personality, assets, team members, goals and budget. It's about putting the puzzle pieces together so marketing clicks. My company is 100% virtual and 100% lifestyle focused. We have always worked without walls. My employees and I work out of 5 different states, on our terms. Years ago, women began asking me for support on more than marketing, wanting my advice on business overall (as in "how did you do it?" and "can you guide me?") and so I began to do work under my personal brand to help women create businesses that support the happiness, health and wealth they want and deserve. I found from personal experience that in order to grow, you have to be rooted and to do that, it's critical to be clear. Women get clear with rest and support. My transformational marketing work weaves in retreats and revival guidance work. I pull from my expertise in all areas – entrepreneurship, relationships, style (in a former life I did that work), wellness, intuition and more. I also connect my clients with the right experts when needed and love helping women create beautiful lives using their businesses as the vehicle to get there!
What do you feel is the missing piece of business success?
The missing piece of business success is self-work. When I work with clients, problems might seem correlated to marketing, operations or administration, but instead, it might be the leader needing to get more nourished or re-aligned to drive the business in successful ways. People power businesses. When the people are not whole, success suffers. I love helping entrepreenurs root, sow and grow in gorgeous ways!
You have been a successful business owner for over 15 years. What do you credit that success to?
I pinch myself every day for having a sustainable business since 2005! I have weathered the recession and the pandemic. I credit my success to working and living on-brand and on-purpose. When I say "on-brand", I'm not talking about my logos and taglines. While I love them and they are aligned to the work my companies do perfectly, my commitment, client experience, walking the talk and the promise I make every damn day when I show up for my clients, my employees and my communities in a meaningful way are what makes a successful, sustainable brand. The other piece of being "on-purpose" is being true to my gifts. Simply put, do what you do best and have others do the rest. My magic is being a guide, advocate and advisor to serve my incredible clients. While I have days that I need to roll up my sleeves and do admin work, dive into projects or strategize, my purpose is clear – to make marketing less stressful and healthy and to help women step into their unique beauty. This purpose fuels me, it lights me up. It is the fuel that has kept me going year after year and attracting ideal clients!
Marketing is a challenge for so many business owners. Why do you think that is? What advice can you give to them to help them get the results they desire?
If marketing feels difficult, overwhelming or stressful, then the leader, team or vendors are doing something wrong. My "Diagnose, Prescribe and Guide process is the first step to getting on a better path. I think business owners see marketing as challenging because they don't understand the real meaning of the word. Marketing is not advertising, sales, emails, websites, social media or search engine marketing. While those are tools to support marketing, the true academic meaning of marketing is maximizing exchanges. I find that meaning a bit transactional, so for my work, I define it as maximizing RELATIONSHIPS. Real relationships are quality relationships. My advice to get out of the old dysfunctional ways of looking at and approaching marketing to get the results desired is to stop thinking "marketing" and instead think "markeding". This is mashup of the words marketing and education, it's a revolutionary marketing approach that that yields and successful and sustainable results. I created markeding® to inspire a marketing standard that puts trust, creative mindshare, and two-way dialogue at the center, breaking down old marketing paradigms so new marketing efforts yield breakthrough results. In action, markeding® means executing your marketing strategy in an educational way. Every piece of content and every exchange in a markeding® strategy helps the other person understand your value and how you can change their lives. Approaching marketing in an ethical way with a pure, educational purpose helps people better understand why to support an organization's products and services, takes the stress out of marketing and gets more "good" organizations over their fear of marketing so they get in the game.
What is the biggest marketing mistake you see leaders make?
The biggest mistake leaders make is not disconnecting to reconnect. We are human BEings, not human DOings! Leaders tend to go, go, go and forget that in order to get revived, they need to reconnect. To themselves, to their purpose, to their gifts, to how they can be the best to their teams and companies. The Rx is simple – rest and retreat. While my agency, Web Marketing Therapy, optimizes marketing and gets things on the right path, I found a need and a gift to help leaders in a deeper way too – by doing personal retreats, programs and advisory with them to help them work on themselves and give themselves the permission they needed to make themselves a priority. This work has been so amazing. I have had women leaders work with me and change health habits, personal branding habits…I have even guided image makeovers (hair, clothing, appearance) to help leaders step into their own unique beauty. Self-work fuels self-worth and happy, healthy leaders make wealthy organizations!
What would you like to see more women business owners do to be successful?
We need (not want, NEED) women business owners to give themselves permission to get clear on what they want and need to succeed. And nobody is going to grant it. We have to give it to ourselves. Too many women leaders are in a FOG (as in fatigue, obligation and guilt) trying to be everything to everyone. I know, I was one of them. On paper, my life looked perfect. I have a fabulous husband, a booming business, a great kid, two homes, wonderful volunteer boards I served on, and looked super fit and healthy. But I was fried. In 2018, I drove my car off a road (a road I have driven 1000's of times) in the fog. It was my massive wake up call. If I had my brights on (I didn't accidentally) the accident wouldn't have happened. I realized that the fog I was driving in was also fog I was living in. I had to shine the brights on my fatigue, obligation and guilt and began to cut all the things that didn't work for me. I asked for more support at home, at work and cut a lot of things that weren't serving me. I give myself permission every single day to get clear and when I feel fog, I shine the lights on what isn't working and clear it out asap. Today, I continue to rock my marketing firm and love that I also have a vehicle to help women clear their fog too, getting them clear and steeping into gorgeous new levels of success 🙂
Alright, so before we go, how can our readers connect with you to learn more and show support?
Let me start by saying that I'd LOVE to hear from you!
https://www.linkedin.com/in/lorriethomasross/
https://www.instagram.com/lorriethomasross/
https://www.facebook.com/lorrie.thomas
https://lorriethomas.com/
https://www.webmarketingtherapy.com/
https://www.wildwebwomen.com
Contact Info:
Website: www.lorriethomas.com
Facebook: https://www.facebook.com/lorrie.thomas
Twitter: https://twitter.com/WebTherapist
Other: If you are ready to step into your unique beauty to work and live on-brand and on-purpose, Lorrie Thomas Ross is your guide. I am the founder of Wild Web Women, a retreat and support company that helps women root, sow and grow wildly wonderful web-based businesses via retreats and programs. She is the Founder and CEO of Web Marketing Therapy, a marketing optimization firm that diagnoses and guides healthy marketing solutions via advisory training and marketing management.
Image Credits
Photo Credit: Laura Grace Sears of Mushaboom Studio