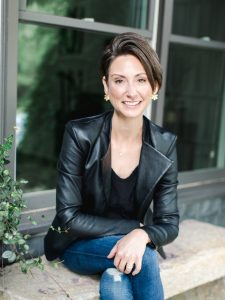 Today we'd like to introduce you to Lorrie Thomas Ross.
Lorrie, please share your story with us. How did you get to where you are today?
In 1999, in the height of the dot-com boom, I was working for Saks Fifth Avenue in California. One of my loyal clients was in the fitting room – I was helping her pick out her travel wardrobe for a trade show in New York. As she was changing, she told me that she wanted me to come work for her, that I needed to drop out of college, quit my job (a job I loved – I was on a management-track path) and come work with her at her online advertising company.
At that time, I was 21 years old, didn't own a computer, never had used email and didn't really know what her company did. I laughed and told her that web work wasn't for me but thanked her for thinking of me. A few months later, when I had the whole store staff in a meeting before the store opened, the phone rang. I answered it (serendipitous since there were 25+ people who could have easily grabbed the phone). It was my client. She said, "drop out of college, quit your job, you would be an idiot not to get into the web world – you will make a LOT of money." I whispered something back into the phone like "and I can wear jeans to work, right?" and that was that.
In 1999, I left the glamorous world of high-fashion to sell web ads at what was one of the top online advertising networks of the time (and we did party like it was 1999!). My career path changed forever.
I worked for this online advertising company in Santa Barbara until they went public. It really bothered me that I hadn't finished college, so I resigned (all my coworkers thought I was nuts) to go back to school. Saks gave me my job back. Three months later, I was recruited by another web company to sell advertising. The job offer was too good to refuse so I left retail for good. I worked at that company for 5 years, selling online ads, then transitioning into buying online ads, leading customer acquisition efforts and learning all about search engine marketing, search engine optimization, email marketing, affiliate marketing, optimizing a web page, geeking out on analytics and more. I graduated from college (it only took me 7 years!) and found a love for web marketing.
Around this time, UC Santa Barbara Extension asked me to teach a course for them. I said that I only had a bachelor's degree and they said that didn't matter, I was a web marketing expert. I was like, who… me? It really forced me to own what I knew and share it. Getting in front of a classroom and leading 3-hour classes was one of the scariest things I ever did, but it was a career game-changer. While I loved web marketing, I found I had a talent for teaching and training. The company I was working for went public, and then I was recruited to work for a company that owned over 20 outdoor recreation brands.
It was a fun job. It was the first time I got to travel for work and the first time I got to interact intimately with brand managers and consult with them to help make web marketing better. And my teaching work opened doors for speaking. I was asked to speak at a conference in Los Angeles about search engine marketing. After my talk, the publisher with a large fashion newspaper said she wanted to hire me. I let her know I had a full-time web marketing job, thinking that would be that. She said that she wanted my help and if that meant nights and weekends, she would take it. This fashion newspaper became my first freelance consulting project. Then I had a startup approach me for help with web marketing.
Then I got recruited to a health and wellness company – a director position that seemed like the perfect fit for me, but it turned out to be one of the most dysfunctional companies ever! But it was a blessing in disguise. It was the job I needed to make me let go of the ledge and own the work I really loved doing – teaching and consulting. I bought the domain www.lorriethomas.com in 2005, incorporated as an LLC, took a website design class and built a website, quit my job and started my company.
And I haven't looked back. A pattern emerged – clients started calling me their "marketing therapist", would joke about getting on my therapy help, laughed when I staged interventions and I did a lot of stress dissolving… all these therapy-isms kept popping up. I bought the domain www.webmarketingtherapy.com and sat on the idea of re-naming my company (the name was Lorrie Thomas Web Marketing originally).
When I started building a team to help me manage the workload that I could no longer do alone, I knew I had to own my distinction… my team and I made web and social media marketing better, healthier, more functional. Web Marketing Therapy became our agency name and our focus! I love helping passionate professionals brand, build and boost business. I continue to travel to speak and teach and work for amazingly passionate professionals in all industries – law, health, education, fashion and more. I work with an amazing team. If it hadn't been for that interaction with my client at Saks who saw my marketing potential, I would not have my own company today and would not live the life I live!
Great, so let's dig a little deeper into the story – has it been an easy path overall and if not, what were the challenges you've had to overcome?
Running my own business has not been smooth, but any challenge I have faced has been an opportunity to learn, grow, adapt or change. The flexibility I have running a web-based business is so fantastic. I am in Atlanta, my team is in different offices throughout the US and we have tons of clients we have never met in person!
My biggest struggle was my biggest lesson. A family emergency made me realize that I could not run my company alone. My father passed away unexpectedly and I had to drop everything immediately and get on a plane. Kelly and Anne, who still work with me today (amazing women who I met at one of my corporate jobs yeeears ago) who agreed to help me "temporarily" after they started their families (now 10 years later!), jumped in and contacted clients and showed me the power of teamwork.
It was so humbling to have to let go and accept help. I don't know what I would have done without them. It was the biggest smack in the face that we have to account for the unexpected and that you can't go it alone in business.
Web Marketing Therapy – what should we know? What do you guys do best? What sets you apart from the competition?
Web Marketing Therapy (WMT) is a boutique digital marketing agency that specializes in strategic advisory, training and web and social media marketing management. Admitting you need help is the first step. WMT helps get clients on the right path via our "diagnose, prescribe and guide" process, working with clients to optimize what they have, then building upon the solid foundation to build credibility, visibility and sellability. We are all about empowering our clients and implementing solutions. It's important for us to see our clients improve – working smarter, not harder.
We are skilled in all aspects of digital marketing – we offer website design, social media marketing, search engine marketing, email marketing and online advertising management. We are distinct in our approach – we never set out to take anything over.
It's amazing how much you can do with what already exists, or collaborating with existing vendors to make marketing more meaningful. Don't get me wrong, I do stage interventions when I see clients or vendors being dangers to themselves or others, but only when necessary. Often, we just need to zone in on a few key areas, make them better and move on.
One of my proudest moments was when a long-time client (we helped him build a multi-million dollar business) decided he was going to walk away to pursue his passion for building a training company. Helping him transition out of his old company, getting the new team trained to take over what we built and helping him launch his new brand and business and creating systems that his staff now runs rocks our digital marketing world!
We work with passionate professionals who love what they do, do more of what they love via helping them create a digital marketing foundation that is "on brand" and "on purpose."
What moment in your career do you look back most fondly on?
I am so proud of the clients and the team I work with and for. I love that I can say that I love the clients I work for – how many professionals can say that?! And my team is so fantastic. They are so fun and funny and so dang talented. My newest employee has been on the team for 6 years – I think that speaks a lot to the quality of the work and company we have created.
I can't say enough about the power of web-based business. When I moved from California to Georgia, I had no idea how powerful web work was. The majority of my clients didn't even know I moved, I didn't miss a beat. Just opened that laptop and got to work! Being able to volunteer at my daughter's schools and for amazing nonprofits also makes me so proud.
My business – my rules. I am so proud that I do valuable work that is in alignment with my values!
Contact Info:
Image Credit:
Ali Harper Photography
Getting in touch: VoyageATL is built on recommendations from the community; it's how we uncover hidden gems, so if you know someone who deserves recognition please let us know here.