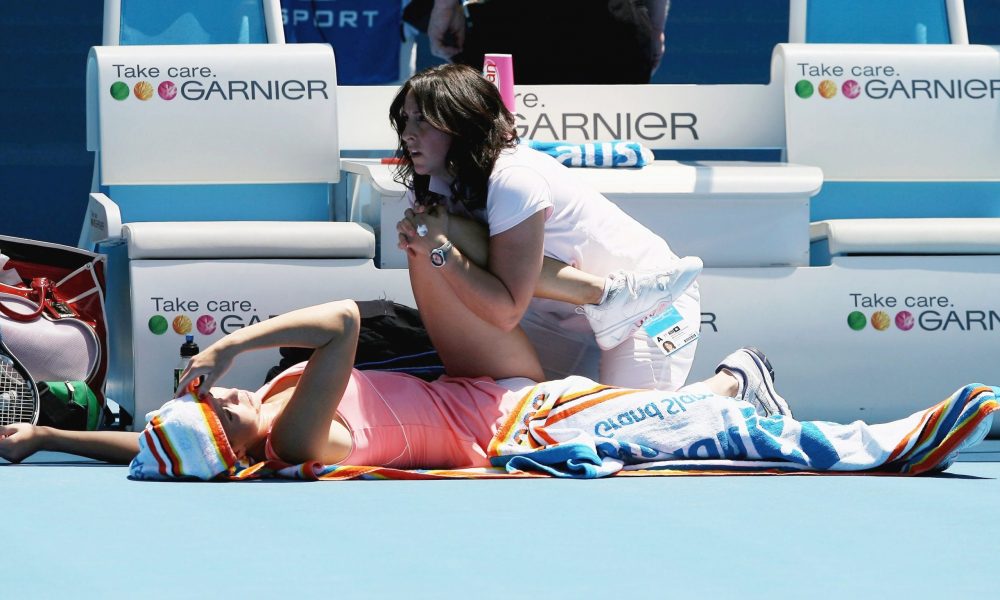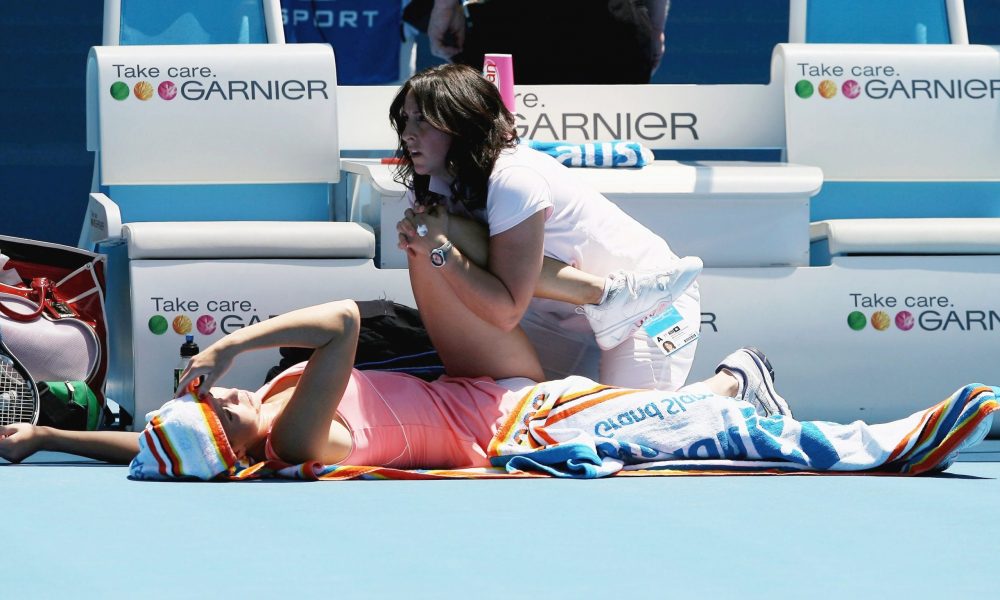 Today we'd like to introduce you to Melissa Baudo Marchetti.
So, before we jump into specific questions about the business, why don't you give us some details about you and your story.
I am a member of an exclusive group of women in this country who has worked in Professional Sports. Pro sports are tough to break into if you are a woman and I am fortunate to have experienced the intensity, the rush, and the challenges of working with professional athletes. Have you ever watched the tennis? You know those women who rush out onto the tennis court to help the female athletes when they get injured? That was me!
I have been an athlete most of my life. I knew from a young age that I wanted to work with athletes in some capacity. I went to physical therapy school with an open mind but deep down knowing that I wanted to work on pro athletes…I just didn't know what sport I would end up in. In 2006, I was in the medical tent of a pro beach volleyball tournament. It was awesome! It was such a change from being in the clinic. It was much faster paced, where you had to think on your feet and move quickly from one training table to the next. I was hooked. I thought to myself, this is it…this is what I am supposed to be doing. A colleague of mine had sent my resume to her contact at the Women's Tennis Association (WTA). Within the week, I had gotten a call from the WTA. They were looking for a physical therapist with manual therapy skills a love of sports to join their exclusive team of women physiotherapists who travel the globe taking care of the female athletes at tournaments around the world. You see, traditionally, they didn't accept Physical Therapists unless they were also an Athletic Trainer, so this was a huge honor because I wasn't formally trained as an Athletic Trainer. I flew to Flushing Meadows, New York at the US Open, where they conducted a 10 day working interview. I worked on everyone from Billy Jean King to Serena Williams. They made it hard on me…early mornings, very late nights, and running to court 18 with a 35 pound pack on my back. They wanted me to know was it was really like on Tour sans the glitz and the glam. I left New York and by the time I had landed in Atlanta, I had a message waiting on my cell phone that I got the job if I wanted it. There was nothing to think about. I accepted the offer, quit my job in Atlanta, and was on the sidelines and in the training room in Europe within the month. I was living my dream. I had made it.
My 4-year global odyssey as a Sports Physiotherapist on the WTA Tour spanned 4 continents, 30 countries, 17 tournaments per year including the Australian Open, The French Open, and The US Open.
After leaving the WTA, I returned to Atlanta and joined One on One Physical Therapy, a multidisciplinary private practice. One on One PT is very different from the traditional physical therapy clinics in many ways. We were the first physical therapy clinic in Atlanta that took such an individualized, one-on-one approach to physical therapy care, hence the name! We focus on the patient for the entire hour, tailoring the treatment to the patient's needs. We are able to see positive results often after just one treatment. Atlanta is the city in the US with the highest number of tennis players and many other professional athletes actually live in Atlanta. So, I would shift gears from working solely with pro tennis athletes to athletes of all levels, ages, and sports.
There are not many opportunities to learn the ins and outs of sports physical therapy the way I did. So, as I was returning to the clinic, my former alma mater, Emory University, asked me to teach a sports elective for the Doctor of Physical Therapy students. I felt I had to help prepare these students in a way that wasn't available to me at the time I was in school. So, now I teach a semester long course that I created from my experience on the WTA and the current research in sports physical therapy. I now share my story with students to help get them ready to work in the very competitive sports arena and to inspire them to go after their dreams. So, when I am not in the clinic, I can be found teaching our future PTs.
Overall, has it been relatively smooth? If not, what were some of the struggles along the way?
While on Tour, I traveled about 35 weeks of the year. I was gone a lot. I missed a lot of family gatherings, weddings, and birthday parties. I missed seeing my nieces and nephews grow up during that time. It was also hard to maintain a steady relationship with anyone. But in 2008, I met a wonderful man while I was working on Tour. He loved tennis and was an athlete as well, so he understood the demands of my job. He actually traveled many weekends to see me at the various tournaments where I was working. I mean who could say no to the weather in Palm Springs, The Conrad Hotel in Miami, beach side in Amelia Island, Magnolias in Charleston, walking the Champs Elysees in Paris, and the nightlife in New York City?
Brian proposed to me at the end of the 2010 tennis season on the biggest stage he could find…center court on Arthur Ashe stadium at the US Open. We felt our marriage would suffer if I was gone so many weeks per year, so ultimately, we decided that I would leave my full-time position with the Tour and move back to Atlanta to begin our life together. We had both gone to school in Atlanta but we never knew each other, Brian at Georgia State University for his Masters in History and I at Emory University for my Doctor in Physical Therapy. It was tough leaving my job, but I was ready for the next chapter in my life. I would take with me all the experiences and knowledge I had gained during my 4 years and put it toward working with athletes and active people in Atlanta.
What I didn't know would be a struggle, was our ability to have a family. I spent so many years focused on my career and the "right" guy didn't come along until my early 30s, so marriage didn't happen until I was 35. We chose to spend time together as a couple before trying for children. Well, who knew at 37 years old that a woman was considered "advanced maternal age" and while I felt so young and healthy, my eggs weren't. We dealt with four miscarriages. I was poked and prodded. And after two surgeries and multiple procedures, we were left with little hope of having a healthy pregnancy. We took a break from all the fertility talk, focused on our health and work and how lucky we were to have each other and wonderful friends and family around us, and BAM…one night after a Billy Joel concert, we conceived a healthy pregnancy. In December 2017, I delivered a healthy baby boy. It was truly a miracle. We laugh about it now that while IVF didn't work for us BJF (Billy Joel Fertilization) did! Ha! So, now I am focused on finding balance between my work life and family life. That's a whole new struggle, but one I am forever grateful at having.
Please tell us about One on One Physical Therapy.
I am Board Certified in Sports Physical Therapy. My background in tennis has made me an expert in tennis medicine, but my practice is not limited to tennis. I now work with athletes of all ages, competitive level, and across all sports. I have also expanded my practice beyond just athletes. I have found that my approach works for all people young and old. I take a comprehensive and functional approach to physical therapy, combining my advanced manual therapy skills, dry needling, Pilates, exercise, Redcord, and taping techniques. My experience and knowledge in sport biomechanics gives me a greater understanding of the demands placed upon the athlete or active person's body and the functional movements required for each individual to return safely to his/her sport or active lifestyle.
One on One Physical Therapy is your complete Physical Therapy solution. At our core is the belief that the needs of every patient must come first. Pain disrupts your life. We will help you eliminate your pain and return to an active, productive lifestyle – AND we will do it with compassion. Unlike the typical physical therapy practice, our patients experience private and individualized treatment, One on One. We evaluate your whole person while focusing on the area of injury to achieve the ultimate goal of total body wellness. Through our unyielding pursuit of Excellence, Teamwork and Compassion, our mission is simple: To Help People Become Their Best.
If you had to go back in time and start over, would you have done anything differently?
This may sound cliché, but I don't think I would have changed anything. While there were struggles along the way, I believe everything happens for a reason and as it should. When you go back and change one thing…that may have changed the entire journey. I went to The Ohio State University for my undergraduate degree, which I thought was going to be physical therapy. You see, at that time, after your second year at OSU, you had to apply to physical therapy school. Well, I didn't get in. A lot of my friends with even better grades than mine didn't get in. It didn't make sense. So, I had to shift gears a little. That only fueled my desire even further. I graduated with my Bachelor Degree in Exercise Science. I moved home, was working in New York City at Columbia Presbyterian Hospital and within a few months, I was bored. I knew I had to try for physical therapy again. I applied to graduate school and was accepted to Emory University's Doctor of Physical Therapy program. It was at Emory, where I met my friend and mentor who gave my resume to the WTA. Had I not gone on Tour, I wouldn't have met my now husband and have a beautiful son, who has blessed our life. I have no regrets.
Contact Info:
Getting in touch: VoyageATL is built on recommendations from the community; it's how we uncover hidden gems, so if you know someone who deserves recognition please let us know here.