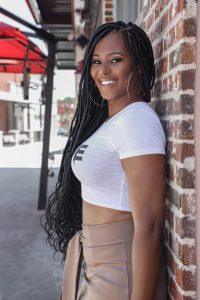 Today we'd like to introduce you to Nickia Lowery, LPC, NCC, CAMS.
Nickia, let's start with your story. We'd love to hear how you got started and how the journey has been so far.
I am a Licensed Professional Counselor and serial entrepreneur. I am the author of 12 Ways to Healing: A Guided Journal For Moving Beyond Toxic and Abusive Relationships, the creator of MelaninTx, and co-host of the podcast Down To The White Meat. My goal is to amplify Black voices and uplift my community.
I am originally from Reading, PA and the product of teen parents. If you know anything about Reading, PA it has big city problems with small-town mentality. In saying this, I mean, many did not see a way out of their environment. I grew up with a father with an addiction problem so he was often absent leaving my mom as a single mother. My mother worked a lot and so my younger sister and I had to be left in the care of others. This led to quite a few negative influences and experiences including childhood sexual abuse and teen pregnancy for myself. I struggled emotionally and mentally for many years leading to engaging in several abusive relationships for myself from my teens until mid 30's. I see a lot of friends and relatives battle addictions, get murdered, end up incarcerated or in abusive relationships. I decided though one day that I no longer wanted to be a product of my environment if you will and began my healing process. Now I must say, many may look at me and see accomplishments along the way prior to my late 30's and not understand the pain that I was under during those times. What I will say is that often a symptom of trauma is over-achievement. Many individuals who suffer from trauma find relief in constantly working, constantly remaining "busy" and it serves many purposes. First of all, it gives you the opportunity to not "think" about your pain, it allows you to feel an attachment to something which gives you a false sense of importance or self-worth.
However, with all my accolades I still did not love me. I still did not know me or really believe I was worthy of better but I knew I wanted better. I also knew at a young age that I enjoyed pouring into others. Counseling was a ministry for me and my gift and often I would find myself sitting with strangers and they would begin to tell me their story and would comment "I do not know why I am telling you this but I feel so comfortable with you" this is when I knew it was time for me to go back to school and begin my journey to becoming a licensed therapist because I knew there were many of little girls and women that needed to not only sit with me but that I would be able to walk alongside and support them in their healing outside of the Church. So often for the Black community the Church is our only refuge but there are many other outlets for healing that should be available and that my community has access too. I wanted to bring a face to normalize the medical model of counseling and to provide understanding of mental health as a priority. I knew there were people out there that needed to hear my story and look at me and know that they to can overcome. They too can make it through the storm.
So I started creating different products and services that can provide support and reach the community in a way that they can understand. So some of that is through counseling (my practice), some is through education (my self-help book and podcast), and some of that is through holistic products including fashion, essential oils, and other natural products to promote healing (my online store). My long term goal is to leave a legacy of generational wealth, something that is taken for granted in other non-Black communities. In our community we do not have the advantages of generations of business owners and circulation of money within our community to help our community. I want to be a part of the plan that changes that so with me building successful businesses through doing what I love, the next phase is to give back and help those coming behind me to reach the success that I have been giving the opportunity to achieve.
Overall, has it been relatively smooth? If not, what were some of the struggles along the way?
Everything about my story involves a rough road and obstacles. My ambition has led to loss relationships, sleepless nights, financial stress you name it. I have had to make it alone as a single mother. I did not have the support of family and friends because they did not see my vision. I had to look to those on the outside who were accomplishing things that I wanted to accomplish. The one thing that I have learned is that if you want to be successful, you have to seek out those that have your solution and separate from those who have the same problems as you. It is a necessity for growth. When I moved to Atlanta, I had worked hard to improve my credit and had a small savings and within the first year I was broke, my credit score had dropped several hundred points. I was depressed and felt hopeless and at one point, my children and I ended up homeless. It was horrible but I did not give up. I knew the plan that God had for me and I was not going to lose my faith. I knew that I had a gift and I knew I could not give up on me or my children. They deserve a legacy that uplifts them. They deserve to live an amazing life and have a parent that motivates them to have and do better than our circumstances.
Please tell us about Optimum Purpose Counseling & Education LLC and MelaninTx.
Well as I stated, I am a serial entrepreneur. I am the owner of Optimum Purpose Counseling & Education a private mental health counseling practice located in Lawrenceville, GA. I am currently fully virtual however prior to COVID, I was offering either virtual or in home services. I do whatever it takes to meet my client where they are, I believe this to be very powerful in the healing process. So some of what I do is conventional and some of it is thinking outside the box. If we need to drive around in the car and put a beat on to get you to rap what happens to you with your childhood sexual abuse that is what I will do. I specialize in trauma. The majority of my clients have either some chronic mental illness or have experienced childhood abuse, find themselves frequently in toxic relationships, are domestic violence survivors or sex trafficking survivors. I am also the creator of MelaninTx. This brand currently is focused on providing inspirational apparel and holistic products through my online store. You can shop at www.melanintx.com.
In addition, I am a self-published author of 12 Ways to Healing: A Guided Journal To Moving Beyond Toxic and Abusive Relationships which I created to help those who have left their unhealthy and abusive relationship and not sure what to do next. It is for those who find themselves stuck and keep going back or do not understand why they keep getting back into the same type of relationships. Finally, I am the co-host of the podcast Down To the White Meat which is available on all major podcast platforms this includes Apple Podcast, Spotify, and Google Podcast. I am the host along with my co-host, Ce Anderson. We are both licensed therapists, HBCU graduates and we are passionate about healing our community. The focus of the podcast is on issues that plague the Black community and how we can move forward. We have guests on that will shock you, we discuss things that we often do not wish to discuss but need to, all in all you will come away from this podcast enlightened and if you are real with yourself having healed in some way.
If you had to go back in time and start over, would you have done anything differently?
If I had it all do to over, I would not have started so late in building my business. I am 43 years old and really just getting started in reaching some of my career goals. I also would have had a better understanding of the fact that I can not do it all myself and it takes money to make money. You really can not be a business owner and have a poverty mindset. When people hear the term "poverty mindset" they typically think of money and the relationship with money however it's beyond that. Someone who thinks abundantly, which is the opposite of a poverty mindset, thinks in terms of growth in all areas of their life and endless possibilities. So when you have to spend money, you know that you can one, make it back and two, understand that there is more where that came from whether it's through investing, working to earn it or whatever the avenue to achieving more.
You also understand being solution-focused and not dwelling on what you do not have but focusing on using what you do have to your advantage in order to move forward. You are strength-based and optimistic. The power of positive thinking and manifestation is real. I would gain more practical knowledge and get that business coach instead of trying to do it all myself. Even though I surrounded my self with people that were doing things I wanted to do I did not utilize all the tools given I often second guest myself, talk myself out of things because I did not have the money but after becoming more resourceful I learned there are several nonprofits that offer business coaching, etc. so a lot of it is really me getting out of my own way and look at the big picture and not feeling like in order for me to be successful I had to do it all myself. No, get others involved in your dream, let the right people see what you are doing, take on investors, etc.
Contact Info:
Website: www.melanintx.com
Phone: Optimum Purpose Counseling& Education: 678-744-7243 ( office number)
Email: dopetherapist19@gmail.com
Instagram: @dopetherapist and @melanin_tx
Facebook: @optimumpurpose
Twitter: @dope_therapist
Other: Listed in following directories: Therapy for Black Girls and Open Path Collective
Suggest a story: VoyageATL is built on recommendations from the community; it's how we uncover hidden gems, so if you or someone you know deserves recognition please let us know here.