Today we're excited to introduce you to Paige Earles. Paige is an Owner/Designer and is also a content partner. Content partners help Voyage in so many ways from spreading the word about the work that we do, sponsoring our mission and collaborating with us on content like this. Check out our conversation with Paige below.
Paige, it's been too long since we last connected. Thanks so much for taking the time to share your thoughts with our community again. Some readers might have missed our prior conversations, so maybe you can kick things off for us with a quick intro?
Hello Everyone!  I'm Paige Earles.  I'm Paige Earles, Interior Design and owner of Pearle Designs an Atlanta-based company which was launched 13 years ago. Prior to opening Pearle Designs, I worked in the corporate world for 20 years in various executive level sales and management roles. In 2007 I resigned from my position as Director of Franchise Sales and said goodbye to the corporate world to pursue my dreams of business ownership. On a personal note, I'm a very proud Mom to my awesome son Eric who is 26 years old.  I moved from Memphis, TN to Atlanta in 2004 and immediately fell in love with the vibe and beauty of this great City. I was born in Los Angeles, CA and have always been a city girl at heart, which made Midtown, Atlanta a perfect location for me to call home. Atlanta is a big city with lots of Southern charm, a lush green landscape and a beautiful, ever-changing skyline; a perfect combination for me.

Although my professional design career started much later in life, I've actually been designing since I was in college.

I'm passionate about interior design and its transformative power and ability to enhance people's lives
Which interior design services does Pearle Designs provide?
Pearle Designs is a full-service interior design company. We manage the entire design process from initial concept to design installation to finishing details and everything in between. Our Full-Service Interior Design includes the following:
– developing the initial concept
– drawing up design plans
– sourcing materials and vendor relations
– furniture, accessories and art selections
– custom window treatments and bedding
– custom fabrics and finish selections
– space planning
– color consultation
– creating design visuals and digital presentations
– purchasing, procurement and installation
– overseeing implementation of design elements
– project management for renovations
– ensuring materials and work specified in the design meet applicable safety and building codes
In addition to full-service interior design, Pearle Designs offers the following services:
– Consultative Design
– Color Consultation
– Landscape Design
– Project Management
– Closet Design
– Redesign
– Residential Renovations
How do your clients benefit when working with your company?
Our clients enjoy the following benefits
– interior design expertise
– cost savings through our direct trade accounts with furniture manufacturers
– exclusive access to trade-only vendors and manufacturers
– customized designs and design plans
– personalized design presentations
– peace of mind
– exceptional service
– access to exclusive resources
– unwavering commitment to turning our client's dreams into reality
– exceptional communication and follow-up
– designs which incorporate our client's personal tastes and desired styles
– enhanced homeownership experience
– access to trusted, experienced and licensed contractors and sub-contractors
– budget control
– fun and exciting process
Pearle Designs, Your Interior Dreams Designer
Tell us about 1 or 2 interior design projects you're currently working on
1. Complete renovation – we'll call it the Plane Jane Brickster
Pearle Designs has been involved with this whole house renovation since the beginning. The house was a single story, brick home with a flat facade and little to no curb appeal. It was built in the 1960s. The interior was also unappealing with an awkward layout, cramped bathrooms and a very small kitchen. One of its only redeeming qualities was the beautiful, large corner lot.
The design plan initially included gutting the existing bathrooms and kitchen, relocating the master suite and replacing all flooring. Due to extensive mold discovered during demo as well as issues with all the major systems in the house, the design plan was subsequently expanded to include a whole house renovation. Everything was demoed including walls, ceilings and floors.
The exterior design plans included the addition of a large front entry, expansive entry steps and walkway, extensive landscaping and massive driveway with a large guest parking area.
The interior design plans included relocating and increasing the size of the master bedroom and bathroom, relocating the guest bathroom and bedrooms, expanding the kitchen to 3 times its original size, adding windows to the expanded kitchen and front of the house, increasing the ceiling height in the entry and living areas and the addition of a large walk-in pantry and laundry room.
As you can imagine, the project list was massive. Pearle Designs' services included overseeing all aspects of the renovations as well as sourcing all materials including flooring, countertops, lighting, kitchen bathroom and shower faucets and fixtures, tile, custom cabinet design, color and cabinet hardware, doors and door hardware, custom garage door, windows as well as all interior and exterior paint colors.
Project completion is now just a few weeks away. It's been a wonderful transformation journey, which has solidified and strengthened a long-term business relationship between our client and Pearle Designs. Our client is thrilled and so proud of her newly transformed home!
2. Modernizing a 70s Estate
This project is a transformation of a 9,000 sq ft property built in the 1970s and primarily focused on aesthetic updates/upgrades and all new furnishings. Pearle Designs has been this client's designer for 3 properties over the last 10+ years. We have been involved with this project since the beginning.
The updates included removing all wallpaper (there was A LOT of wallpaper), new stair railing, flooring, custom window treatments, interior paint and custom furnishings, lighting, rugs and art. Due to the great condition of the exterior and the gorgeous 4.5 acre lot and gardens, all design services were limited to the interior with the exception of a covered patio and bar.
Pearle Designs' services included the design plans, floorplan layouts, sourcing all furnishings, lighting, art, rugs and fabrics for the custom window treatments and upholstery pieces, options presentations, purchase management and overseeing all aspects of the design process, delivery and installation.
The final furniture pieces will be delivered and installed in 4 to 6 weeks. Our clients are looking forward to the final delivery and enjoying their gorgeous, newly transformed home! I'm thrilled and so excited for them and this next chapter in their lives!
Give us an overview of the design process for a new client or project
Our design process begins with the initial consultation when we meet with a potential client, tour the property and discuss the project details. Following the initial consultation, we prepare a personalized design proposal which includes an overview of the design process, services included and our design fee. After the design agreement has been signed, the exciting and very specialized design process begins. Although each project is unique, the phases of the design process are pretty consistent from one project to another.
Phase 1: The Design Meetings – The Fun Begins!
The initial design meeting and detailed walk-through is an exciting, face-to-face deep dive and exploration. We determine our Client's design preferences and review details of all design services included. Following the initial design meeting, we begin creating the formal design plan.
Ongoing design meetings include visuals, such as flooring and tile samples, design presentations, fabric samples, color swatches, finish samples, catalogs, floorplans, drawings and illustrations.
Phase 2: Planning Stage – Now It's Getting Real!
After the Design Plan has been approved, we move into the Planning Stage and begin preparing presentations, detailed specifications and purchase quotes. Activities during this phase include:
– project timelines
– conceptual designs
– sourcing all furnishings included in the design plan
– sourcing all materials to complete the specified projects
– Options Presentations
– project estimates and purchase quotes
Phase 3: Purchasing & Implementation – We're Almost There!
This phase includes all aspects of purchase management. We supply all materials to complete the specified projects and we purchase for our Clients all fabrics, furnishings, accessories and artwork specified for the design project. Phase 3 activities include:
– closely monitoring order status and lead time
– scheduling delivery and installation of furnishings
– overseeing all installations
– overseeing all contractor related projects
– inspecting all deliveries
– process damage claims
Phase 4: The Big Reveal & Review – Woohoo!
Making it to the finish line and seeing our designs become a reality is so extremely rewarding, but our Client's reaction to the finished design is by far the most rewarding and heart warming part of designing and the entire design process. This is when our Clients can finally enjoy and truly experience the transformations.
What is the most rewarding part of your business and why?
The most rewarding part is turning our client's dreams into reality and transforming their home beyond what they could've imagined. I'm passionate about interior design because I'm passionate about enhancing our client's experience as a homeowner. It's so rewarding to see my clients fall in love with their home. There is also a personal transformation that takes place for my clients. They go from neutral feelings about their home at the beginning of the design process to feelings of pride and joy and they can't wait to share their newly designed home with family and friends.  Very rewarding and also very humbling.  Simply put,I love interior design because of the positive impact my designs have on our client's lives.
What do your clients say about your company and your services? Can you share some client testimonials?
These quotes were taken from videos of our recent Design Reveals. This is what clients said in between lots of hugs and some tears of joy.
"I was so excited to get back home tonight! You really made my house feel like the home I never thought it would feel like. I can't thank you enough"
"You are an amazing designer and you always do such beautiful work"
"Oh my gosh! I love, love, love everything!"
"Paige, your work needs to be in a magazine"
"Everything is so beautiful!"
"Paige, your designs are amazing!"
"Wow! This doesn't even feel like the same home. I feel like I'm at the Ritz Carlton."
"You are such a talented designer!"
"I knew you were a great designer, but you're even better than I thought"
"No matter how wonderful your last design was, you always outdo yourself"
Thank you so much again for sharing all of this with us. Before we go, can you share with our readers how they can connect with you, learn more or show support?
Please visit our website at http://pearledesign.com/ for information about Pearle Designs, Our Services and Gallery of recent interior design projects.
You can reach Pearle Designs by completing the Contact Us form on the website or you can reach Paige directly at 404-219-1393 or paige@pearledesign.com
You can also connect with us through Facebook at https://www.facebook.com/PearleDesigns or Instagram at https://www.instagram.com/pearledesigns/.
Thank you so much!
Contact Info:
Other: Reach us through the Contact Us form on our website or Paige can be reached directly at paige@pearledesign.com
Contact Info: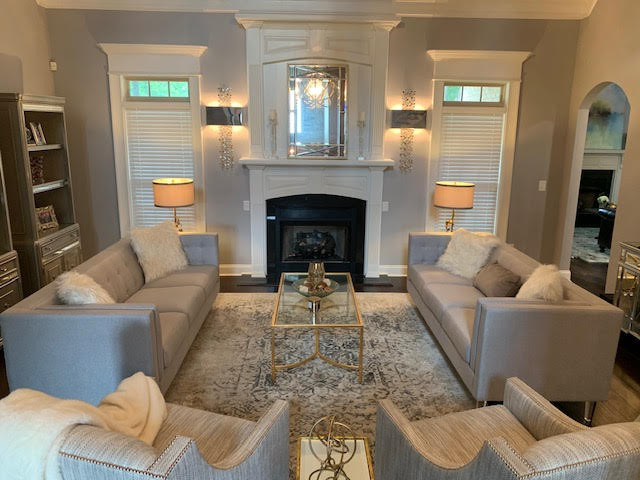 Image Credits
Eric Earles, Double E Photography
Suggest a Story:
 VoyageATL is built on recommendations from the community; it's how we uncover hidden gems, so if you or someone you know deserves recognition please let us know 
here.