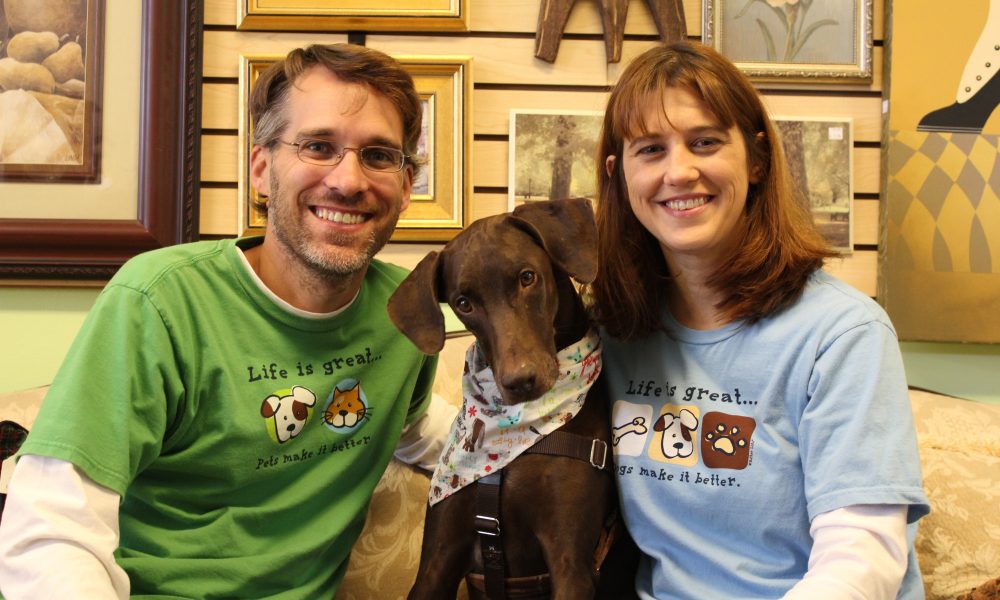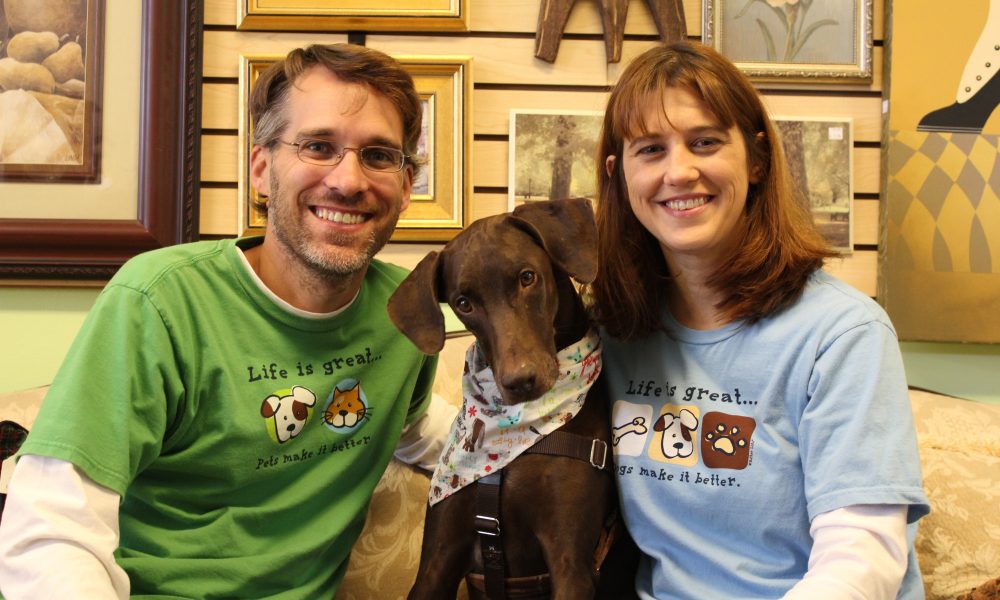 Today we'd like to introduce you to Tanya Mahrous Tobias.
So, before we jump into specific questions about the business, why don't you give us some details about you and your story.
As with any good story, there has to be an inspiration to start. For us, it started with a dream. An idea. A passion for wanting to help homeless pets. I didn't grow up with a dream to open a thrift store. In fact, I was so embarrassed to be seen in them as a teenager that my mom laughs about me starting one! Everything changed when we got married and bought a house. It was then we realized how expensive it was to buy retail. It was also when I realized how much fun I had searching thrift stores for unique treasures at bargain prices!
Lucky, our rescued Dalmatian adopted my husband, Toby Tobias, and me in 2001 and became the love of our lives. He had been deemed "unadoptable" because he had been returned twice to the rescue and, was a 5-year old alpha male who needed to be an only dog. The irony is he was only supposed to be our foster dog – he was days away from being put down – and we couldn't say no when his rescuer asked us to foster him. He opened our eyes to the plight of homeless dogs and cats and we started volunteering with animal rescue groups. Lucky led us on a new path and ignited a fire to do more for animals.
After doing the corporate gig for a while, I realized I was ready to be my own boss and follow my passions in life. I realized early on how precious life is and I wanted to follow a path that I knew I could be proud of – and that would make a difference in the lives of amazing and adorable homeless animals. So that's where the story starts…with the ambition to make a difference for animals.
I believe timing is a big part of life. The inspiration came while visiting my hometown of Lincoln, NE for a high school reunion. I had left the corporate world and was a little lost. It was a time for evaluating what I wanted to do with my life. I knew I wanted to start my own business, and I knew helping animals was a big part. The idea of combining these two loves didn't occur to me until that serendipitous day. The idea of combining my love of rescue animals and bargain shopping sparked a desire to learn more and take a leap of faith.
My husband, Toby, is my biggest champion and he enthusiastically supported me when I told him I'd found my calling and wanted to open a thrift store to benefit animal rescues. I wouldn't have been successful without his support and encouragement! He is our Director of Operations, so this organization is very much a part of who we are together.
I often wonder what we'd be doing today if I hadn't walked into this store on that day in 2009. Would I still be in the corporate world? Would I be as happy? Would someone else have filled the need for helping animal rescues? I am thankful to have had the opportunity to take the chance.
We started Second Life with the belief that we could make a difference for animals. Over 80,000 animals in Greater Atlanta shelters are killed EVERY year – more than 200 per day. This statistic breaks our heart and is not acceptable to us. Many of these animals are healthy, adoptable animals who would make wonderful pets – they were just failed by humans. We wanted to be a part of the change to encourage adoption and spay/neuter.
Second Life opened on January 8, 2011 to a crowd that showed their support by shopping. Our store wasn't very full yet, but we were hopeful. Our inspiration, Lucky, was by our side. He was our senior spotted angel, and as our first Chief Smile Officer (CSO), he welcomed everyone. Lucky gave them a reason to come back and shop, to tell their friends, to donate and to volunteer.
We often joke that he kept us in business the first year. People would come to see our sweet senior Dalmatian who liked to look out the window. They'd feel guilty and buy a few items and donate a few items. He was with us until December, 2011 – when his 16-year-old body wore out – although his smiling spirit never did. We still get people telling us they remember Lucky and it warms our hearts. We are grateful he lived long enough to fulfill his legacy. Our "unadoptable" foster dog changed the course of our lives forever…Lucky's Legacy truly lives on.
Shortly after Lucky passed away, we adopted our second Chief Smile Officer, Riley, from the ESMA shelter in Cairo, Egypt. We weren't ready to open our hearts to another dog, so he was only supposed to be our foster dog – but he ended up stealing our hearts with his little "nubby wag." Our customers love seeing him roam the stores – and we love that he went from sleeping on a metal bed frame at the shelter with 500 other dogs – to under the covers in our bed.
We often visit family in Egypt, and have brought back and fostered several other dogs. The rescuers there need all the help from abroad they can get – as pets are not culturally accepted – and the mixed breed street dogs and cats (called "baladis") are definitely not wanted. We believe rescue knows no boundaries, and we will help an animal in need – no matter where they were born.
Our support from the community continues to amaze us. We've come a long way from the day we sat in the empty building after signing the lease – wondering how we'd fill the space. I remember alternating between excitement and terror, but there was no time to wait. We got to work and reached out to the animal rescue community to help us make our dream come true.
Animal lovers put their faith in us and supported us by donating, shopping, volunteering and promoting our stores. We even opened up a second location next door after running out of space in 2013. It takes a village and we are thankful for everyone. We are especially thankful for our volunteers – they are the heart of our organization and their dedication helps us achieve our mission. Our employees help us create a consistent, customer-service focused shopping and donation experience. We couldn't do achieve any success without our amazing team.
We have many dreams…and all of them include helping a lot more animals. That's what it's all about. Everything is driven by this desire. Animals truly change lives, and Lucky put us on a trajectory that we didn't quite know about yet…and his legacy lives on.
We are still learning, but it has been quite a journey, made possible by all of the support we have received from our friends, family, community…and animal lovers. We owe a big thank you to everyone who believed in our dream and is helping us achieve it!
Has it been a smooth road?
This is an interesting question to answer, as anyone who has started a business or organization knows that there will always be speed bumps and unexpected challenges.
The biggest challenge for Toby and me has been finding an acceptable work-life balance. When you run your own organization, you are basically working 24/7 – it's not a 9 to 5 job. It's been a challenge as we try to step back from the day-to-day so we can reclaim our social life and balance working with enjoying life – such as traveling, hiking and being with friends and family. We have a great team and trust them wholeheartedly to run our stores – but we also want to make sure they are not overworked or getting burned out. This worry is always in the back of our minds, as our team is a very integral and important part of our success.
Our biggest operational challenges occurred early on – and as we grew quickly. We had only 2 months to open after signing our lease – before we had to start paying rent. It was at the end of the year so the holidays kept everyone busy. We didn't have time to hire employees, so early on it was just me and Lucky at the store. I didn't even have regular volunteers signed up yet. Those were challenging days – and I often wonder what I was thinking!
We are thankful that many people believed in us early on and started to support us however they could – donating, shopping, volunteering and promoting us. There was also a lot that "we didn't know we didn't know" so we are thankful for "subject matter experts" who volunteered their accounting, marketing, retail and other pertinent experiences.
One of the biggest struggles is a great one to have – growing quickly – in the sense it means we have had wonderful support. As a business major, I know that growing too quickly can affect the organization and its team…so we are continually learning how to best motivate and lead our wonderful team of volunteers and employees. They are critical to our success.
We'd love to hear more about your business.
Second Life is 501C (3) non-profit organization that was founded in 2011 here in the Atlanta area. We are a unique organization – as we are a resale business and a non-profit. Our 2 community-focused resale stores allow us to raise much-needed funds to benefit animal rescues and spay/neuter programs.
We are not a rescue. Second Life does not have its own shelter or rescue license. Instead, our organization was created to benefit rescue groups who are already saving lives and helping families be a part of the solution to pet overpopulation. This makes us unique from many other animal rescue thrift stores – they are often run by a specific rescue to fund their own operations.
While our stores are the most visible part of our organization, we want to be known as more than a store. Second Life is a charity organization focused on:
Promoting pet adoption and our love of rescue pets. We do this through our messages instore, online and whenever we get a chance. We foster cats for PAWS Atlanta in each of our stores, and have adopted out over 100 cats in the past 4 years – many of them with special needs. We also offer rescue groups a chance to hold adoption events at our stores. It is part of our mission to encourage adoption – especially of special needs, seniors and the "overlooked" animals (like black dogs/cats, shy animals, etc.).
Educating families about being responsible pet parents. We have rescue and spay/neuter oriented signs in our stores, encouraging our supporters to adopt – and be responsible pet families. We provide spay/neuter grants to organizations that help assist families who can't afford the procedures, including Lucky's Fund at Lifeline Animal Project. We need to keep unwanted animals from being born and ending up in shelters.
Providing resources for other groups to help families keep their pets. We are a drop off and distribution point for Pet Buddies Food Pantry – a group that helps low-income families keep their pets at home by offering food and supplies – and even free spay/neuter – a simple solution to keeping pets from becoming a statistic in shelters.
Our stores are how we achieve our mission. Proceeds raised by the sale of items in our stores are donated in the form of cash grants to animal rescues and spay/neuter programs. We are proud to have provided over $825,000 in grants to more than 50 rescues and low-cost spay/neuter organizations. We are on a March to $1 Million in grants this year – and we think we can do it! Never in our wildest dreams did we think we'd reach this milestone within 6-7 years – considering we gave out only $13,000 in grants our first year (and we were really excited about this amount!).
We love to hear many of our customers tell us we are "their favorite place to shop." When I created our business plan in the early days, I wanted to focus on creating a retail-oriented store that was clean, organized, bright and fun to be in – a place I would want to work in. Our customers love shopping for their "retail therapy" and we never get tired of hearing them tell us they love our stores – and our mission.
One thing that sets us aside from other thrift stores is our focus on displays and organization. Our assistant manager creates the most amazing window displays that draw people driving by…she has a talent I will never have. Our clothing racks are organized by size and often color-coded. It's all about creating a fun shopping experience for supporters. This is what is amazing about our team of volunteers and employees – everyone brings a unique set of skills and talents and we encourage them to use them each day.
Our support has helped organizations:
Rescue animals from high-kill shelters and get medical care and life-saving surgeries
Assist families with spaying and neutering their pets so they can be a part of the solution to pet overpopulation
TNR (Trap, Neuter, Return) community cats – a proven method to reduce the feral cat population humanely through generations
Helped women (and men) fleeing domestic violence keep their pets safe until they are back on their feet by supporting an organization that gives the women – and their pets – a second chance.
So how do achieve our mission to give homeless pets a second chance at life?
We operate our 2 upscale thrift stores. We focus on putting quality merchandise ton our retail floors so our customers can be happy with their purchases. Our merchandise comes from donations of gently-used items from animal lovers who support our mission.
Our 5,000+ square foot Main Store opened in 2011 and sells gently-used clothing, housewares, electronics, décor, books, and more! Pretty much anything you'd find in a home or patio – the variety is endless! Our store is geared to the bargain shopper and animal lovers- with fun animal motifs painted on the back wall, rescue and shelter information posted throughout the store – and our Chief Smile Officer, Riley, roaming the store and looking for a good ear scratch.
Our Furniture, Decor and More store opened in November 2013 and is located next door. We ran out of space in our flagship store thanks to the community's support – so we expanded! It features furniture, artwork, lamps, decor, vintage and collectibles. It's a more intimate shopping experience and customers never know what they might find!
When shopping at our store, customers are shopping for a higher purpose. Not only do they find great treasures at bargain prices, but they also give hope to homeless pets. When they clean out their closets to donate, they make a difference. It's such an easy way to help!
I hope you can see my passion and love for what we do. I tried to pare down my comments – but there is so much to share!
Is our city a good place to do what you do?
Yes, the Atlanta area has been great for us. We have a huge network of animal lovers and rescuers who have supported us – as well as bargain hunters who love to search for treasures. Our community is also focused on sustainability and protecting the environment and our stores are a perfect way to reduce, reuse and recycle. Your unwanted items are someone else's treasures.
The Avondale Estates/Decatur area has been a perfect fit for our stores and we are thrilled to be here.
Contact Info: