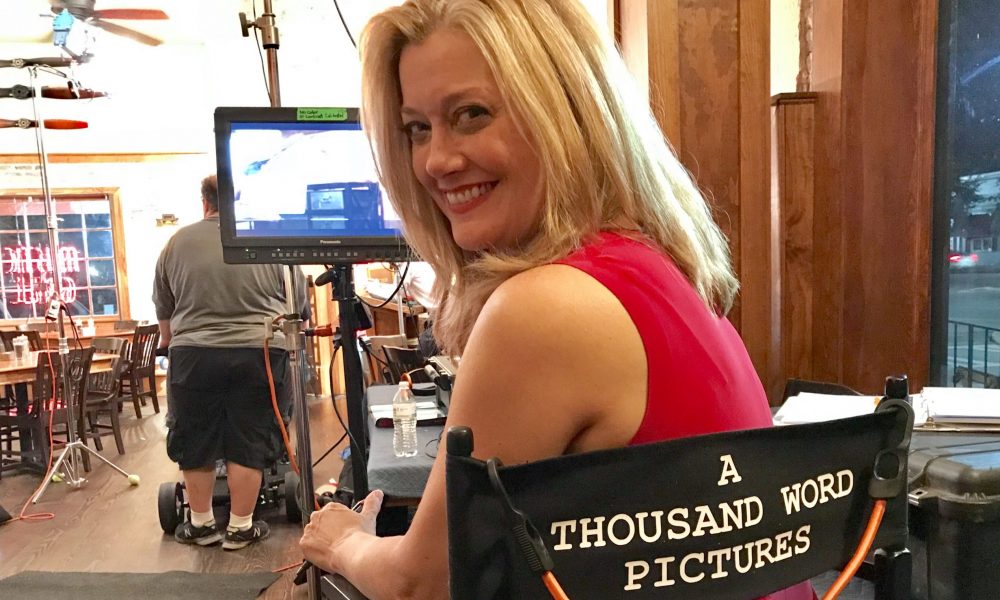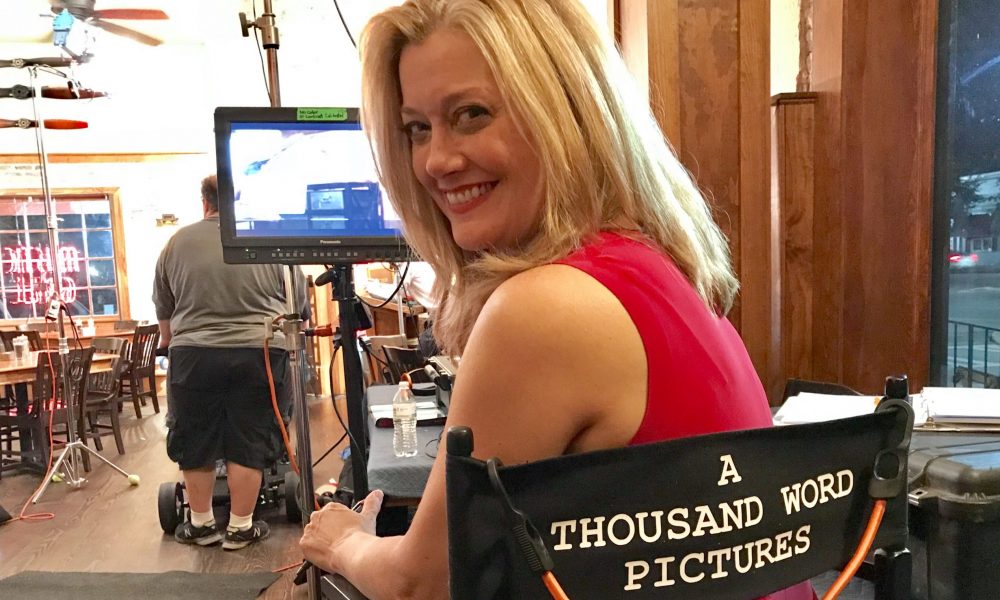 Today we'd like to introduce you to L.A. Winters.
Thanks for sharing your story with us L.A. So, let's start at the beginning, and we can move on from there.
If you had told me six years ago that I would be acting full time again, on stage and in the TV/film business, producing, screenwriting and creating a production company, I wouldn't have believed you. What I am doing now as an actor and with my production company, A Thousand Word Pictures, LLC is the sum total of the seemingly divergent seasons of my life. My mom acted in community theater, and at the age of ten, she took me and my identical twin sister to an audition.
We were asked to try out, and after a terrifying attempt at singing and dancing, we made it into the musical production of Carousel (I'm pretty certain our twin cuteness was the reason). I fell in love with dance and became a serious dancer, training in the suburbs and taking the train to downtown Chicago as well. That led to my first professional gigs during high school, a summer dancing in the Bugs Bunny Show at Six Flags and some choreographed modeling around Chicago.
That led to print and commercial modeling which ushered in my first acting audition for the movie Flashdance (the lead). I fell in love with acting at that first audition and began to study acting seriously while modeling. I met Michael, my future husband and we moved to Atlanta in the early '80s. I continued to study and model here. I booked my first TV and film roles while also doing community theater. I happened to have a series of national commercials running (I am one of the Doublemint Twins from 85-95) which afforded the serendipitous opportunity to study in NYC. I had performed in the play, Barefoot in The Park at a community theater in Atlanta.
When the lead got sick in a production of the same play in NYC at the ATA Theater (Off-Off Broadway), I went up to NYC to fill in! I garnered the attention of a few agents. This led to a 2 1/2 year stay and commuted from Atlanta to NYC. I continued to study acting and to book commercial work while auditioning for TV and Film. I was working through two of the top NYC agencies; The William Morris Agency and Cunningham Escott and Dipene while studying at The Michael Howard acting studio.
I was starting to experience some success BUT, the distance and my all-consuming career were taking a toll on other important things in my life, namely my marriage and hopes of starting a family. I knew I didn't want to raise children in Manhattan, so at age 27, I made the very difficult decision to move back south permanently and essentially leave my budding career. (for the record, I have had no regrets) I call the next 17 years my "nesting" period.
Little did I know that the joy of motherhood (three times over!) and developing my other artistic passions and gifts through serving as a Drama director, Creative Team member and Dance Director at my home church would also be building the experiences and skills for all I am doing now as an actor, writer, and producer! I often tell younger actors "Don't sacrifice your real life for your art, otherwise you will eventually have nothing real to bring to your art".
The film and TV business had dried up in Atlanta in the late, and early 90's when I returned from NYC. But, during the time I was busy raising our amazing humans Marlee, Mason, and Collin, the tax incentives were put in place (a result of some dedicated fellow industry people here). I received a notification through a friend of an independent film audition… I almost deleted it… I decided to just go and see… I ended up booking the small role which led to a lead role in the second film of the Mandie series, Mandie and the Cherokee Treasure.
What an unexpected joy to finally be able to use the training I had so intensely pursued 17 years earlier! This led into "Chapter 3". The kids were old enough, and the business was building, here again, so I decided to make a go of it. I immediately went back to acting class and started to build community in the Atlanta area. To help support our family, I simultaneously studied for my ACE personal training certification and my 200hr Yoga certification and started my other business, New Leaf Life, privately and corporately training clients and teaching yoga.
I began building genuine relationships within my acting classes and other industry groups like the local SAG/Aftra conservatory, casting workshops, Women in Film and Georgia Production Partnership which led to amazing things. An actor I met in class, James Hamilton and I started a group called WAWO (working actors work out). I invited some of the working actors I had met in class and on commercial sets to join me in an ongoing film scene study in my home.
And for the last three plus years, the six of us would meet around once a month to shoot three-four minute scenes exactly the way you would on a "real" set. We honed our craft by working within the same unique parameters that TV/Film acting requires. I met a screenwriter/director in class who also guest directed at our WAWO shoot. Vandon Gibbs – Graphite Pictures, became a friend and mentor encouraging me to write. I wrote my first full-length screenplay, Beautiful Goodbye, as an ensemble piece for our WAWO group. We workshopped the script, and I decided that I would like to produce it as a feature film.
I began attending film festival panels, production workshops, networking events, Sundance Institute master classes and volunteering behind the camera on projects to learn the production side of things. In the process, one of the working relationships that had been built out of acting class and WAWO with one of my acting teachers and fellow actors, Robert Pralgo, resulted in he and I co-writing, producing and staring in our short film PARKED.
I executive produced it through A Thousand Word Pictures as my first official project! It is a fun rom-com with a heart that I hope will be a calling card for ATWP. We will be entering PARKED into film festivals and hold some screenings after the 1st of the new year! This year has proven to be the most surprising of all, as while I have been building my acting resume with a few films, I have also begun producing two more projects.
One is an edutainment web-series called Cocktails & Conversations. I feel passionate about sharing with others in this industry the things I am learning and how these various projects came into being in hopes of encouraging and inspiring others on their storytelling journeys. On the web-series, I interview the people that I am working with and learning from over a few cocktails. My first 15-minute episode is out now, "Drunk History."
An exciting aspect of this web-series was the opportunity to provide an externship through the MEBUS program at KSU. Nia Bethea came onboard as editor and production assistant. The second episode is in pre-pro and will be out early 2019. Concurrently, I am co-producing the play, The Fall to Earth by Joel Drake Johnson with Rob Mello's Yard Dogs Ensemble and actress Savannah Scaffe. Savannah and I play the lead Mother/Daughter roles of Fay and Rachel. Rob Mello is directing. Come out and see the show, running January18th-Feb 3rd, at RMS. Tickets: www.brownpapertickets.com
This is just one more opportunity born out of studying and building community. Mello's eight-month Meisner Intensive was one of the first classes I took when I re-entered acting six years ago was. I have continued to study with him and others at The Robert Mello Studio. When the three of us decided to put on this powerful, funny and tragic play, I wanted to use it to raise money for and awareness of mental health and suicide prevention. I have had very personal experiences in my life and family that make this a cause I feel passionate about.
Turns out, we all have… Rob and Savannah are just as motivated to use this play to make a difference! We just completed an Indiegogo campaign and were able to raise the 5,000.00 budget of the play so that 100% of the ticket sales can go to Crisis Text Line and To Write Love on Her Arms, two organizations saving lives, providing help and hope as well as lifting the stigma of mental illness. I am thrilled to be returning to my roots in theater while charting new personal territory as a theater producer.
You never know we're doing the things you love will take you, but if you love what you do, regardless of the outcome you will enjoy the journey! When art and cause come together, beautiful things happen!

Great, so let's dig a little deeper into the story – has it been an easy path overall and if not, what were the challenges you've had to overcome?
The biggest challenge has been to balance the reality that getting a film made and distributed is about as likely as winning the lottery with the passion that drives me to do it anyway! It has also been a steep learning curve on the amount of time it takes (as in the passage of time) to bring things into fruition, from page to screening!!!

Please tell us about A Thousand Word Pictures, LLC.
I formed A Thousand Word Pictures, LLC to create original content that is RAW – REAL and REDEMPTIVE. Stories that entertain the mind and move the heart. I hope to tell stories that are real in ways that people can identify with, raw in the truthfulness of our humanity and its complexity, redemptive in ways that illustrate the fact that no matter the circumstances of life, there is always hope!

Do you look back particularly fondly on any memories from childhood?
I recently realized, as I looked back over my childhood, that I have always been a storyteller, producer, and actor as well as cause oriented. My sisters and I would create soap opera-esque Barbie "productions." We would build the set, create the props and have very dramatic storylines. We also put on backyard fundraisers with dance performances and carnival-like games.
Contact Info:

Image credit: 
Kurt Yue  Poster Design Alpesh Patel Windsail Design
Getting in touch: VoyageATL is built on recommendations from the community; it's how we uncover hidden gems, so if you know someone who deserves recognition please let us know here.