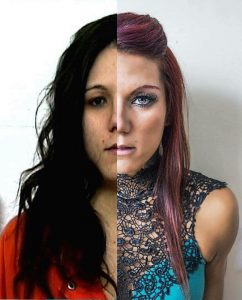 Today we'd like to introduce you to Brandy Anderson.
Brandy, let's start with your story. We'd love to hear how you got started and how the journey has been so far.
Given that my mother was just a teenager and struggling with addiction herself when she became pregnant with me and I never really had a chance to begin with. My mother lived in a girl's home and she got pregnant with me by a statutory rape type situation. If she would have had her way, she would have had an abortion with me. Needless to say, she was in no way shape or form ready to take care of a child.
My youth is filled with a lot of abuse, neglect abandonment and displacement. I moved from group home to foster home to group home to being left at random people's homes for different amounts of time. My birth mother was in and out of incarceration and I did not know my father. Today I know him still as a functioning alcoholic. By the time I was 14 years old, I found my first substances. That was finally my escape. My story goes on to lots of drug and alcohol use that led me to incarceration. At age of 18, I was released to the city streets without any skills. Needless to say, I turned to the streets. This is where my addiction went to new taps.
By the time I was 20 yrs old, I got sentenced to 20 years in prison. This is where I decided that something had to change or nothing was ever going to change. I truly wanted a different way of life even though I had no idea how. I never got treated for my addiction or was even asked what had happened to me. It was a matter of being placed from institution to institution to try to address my behaviors. This is what fuels my passion to help others today. When I got out of prison, here I was again with no skills. This time I had the gift of desperation. I had to put myself through college and it was such a struggle. I was an eighth-grade dropout and had little to no books smarts. I had to work extra hard to graduate. I knew at that time, I wanted to help people but was unsure of how. Thankfully the University showed me different opportunities on how I could serve the community.
I ended up graduating as a magna cum laude, and I didn't even know what that meant. It was around this time that I began working in the field of recovery. It was here where I found the opportunity to use my lived experience to help other people. I got into this field just wanting to help somebody, just wanting somebody to have the opportunity to be asked what happened to you and how can I support you. Never in 1 million years would I have imagined my life would be so full today. The idea of Acceptance Recovery Center, Inc. came from wanting to give an overlooked and underserved population and opportunity… another chance. In January 2016, the doors to Acceptance Recovery Center Inc- what I thought would have been a small long term women's program ended up being a large long-term men's program. I never could have imagined how much they would teach me.
Our program went from serving 14 high risks, high needs en to 40 within one year. In the beginning of 2019, we opened our women's program officially and added another 20 residents. This program has not only changed my life, but it has changed the lives of so many families in our community. Becoming a CEO is challenging. I thought that my duty in life was to help others find recovery. To help them be seen as humans that have the capacity to change. Today, my life looks much different than that. I am able to serve with an organization that is changing the face of addiction recovery not only in our community and Athens but also state-wide and even nationwide. Georgia is leading the United States in the recovery movement. It is such an honor to be able to use my lived experience to serve families.
Has it been a smooth road?
Has this been a smooth road? Ha ha ha. It has been a worthy road. It has been a road that has been filled with many victories, yet many challenges. There wasn't one single person that told me that I couldn't do this. I look back and think to myself, those people are just as crazy as I was. Other than one person. She told me I was too young. She said that I wasn't mature enough to start a small women's program. Looking back now, she was absolutely right. But she did not know is that I had an amazing network of other people in recovery that was very invested in seeing my success not only for myself but for the recovery community overall.
My advice to young women is set your dreams high. Use every opportunity to challenge yourself and grow. Never think that any lesson is without growth. Times may become challenging, but I have found that those challenging times have built my character. I've become equipped with perseverance and tenacity that is not built any other way than through hard work and experience. Today I am college-educated. But there are things that I've learned in college that the streets could have never taught me. Both adds a tremendous amount of value to my leadership today. Mentors have been crucial. I have not been afraid to ask others for help. I have different people that I can call at different times that will listen to me and give me their experience. This has become a foundation to how I mentor others.
We'd love to hear more about Acceptance Recovery Center.
We are known for the specific population that we serve. Our organization has been created to serve the high-risk, high needs, court referred displaced population with substance use disorder as a primary need. Our program offers two levels. The first level is five phases in a minimum of 12 months. That's called our foundation program. Our second level is our transition program. That is alumni care at up to 12 months. The goal of that program is to transition men and women into independent living.
Our services that also set us aside is the evidence-based recovery support services. We offer higher accountability and high level of care with proven effective programs. I am very proud of the type of care that we provide to the community. I'm also very proud of the culture of our community. Our core values are #engagecommunity, #inviteconnection, #promoterecovery, #modelintegrity, #cultivateteamwork and #encouragegrowth. Each one of our team members are evaluated annually on how they model these core values. It is proven and how we serve other people how much we really truly care about our own personal recovery and other's recovery.
What sets us aside is that we live our recovery out loud. We do not hide in the shadows and we are not voiceless. We take every opportunity that we can to share the message of hope and freedom to the community-wide. It can become rather challenging when dealing with confidentiality. It is a very thin line that we toe. We always make sure that we offer the most ethical practices. Our team members are astounding at engaging the community. It's truly an honor to get to work with them all.
Which women have inspired you in your life?
The women that inspired me began with my recovery 12-step sponsors. There were a couple of women that were crucial to my development and their recovery lifestyle from the beginning. Then along the way, I have developed that friendship that has taught me so much. My best friend, Ami, and Christy, have showed me what true friendship is. Then my colleagues Kristina, Diane have helped me develop not only professionally but also spiritually. Mentors in college like, Carly & Mich, supported my continued growth even after graduation. Today I have a high involvement in the local community.
There are other leaders, like Sarah Mckinney and Erin Barger, and Kay Keller continues to inspire me on a daily basis. Today, Holly and Carol, give me the balance needed to be a business professional in the community. Carol has taught me so much in regard to being and executive, professional woman, while Holly has taught me how to show up with love and support while composing myself appropriately for any given setting. There is one tiny human that gives me the most inspiration. I've learned what it's like to be a leader in the home. Getting custody of my 3-day old niece in 2018 really changed my life. I aspire to inspire her.
Contact Info:

Image Credit:
Mary Lee Photography
Suggest a story: VoyageATL is built on recommendations from the community; it's how we uncover hidden gems, so if you or someone you know deserves recognition please let us know here.